This is the first show for this promising Japanese artist and is also the inaugural show from Maplewood Mercantile's new gallery platform.
Aya Ogasawara's works suggest the sublime within allegorical rhapsodies that celebrate femininity.
Opening November 10, 6-8 pm at the Maplewood Mercantile, 145 Dunnell Road, Maplewood
Memory and Mirage is an exhibit of recent artworks by emerging artist Aya Ogasawara. This collection of never-before-seen works evokes Ogasawara's suggestion of the sublime within allegorical rhapsodies that celebrate femininity. Raised in Tokyo and trained in Paris and New York, Ogasawara shines a Northern Renaissance lens on her mythological treatment of figures. The pale, translucent skin of her figures is redolent of Jan Van Eyck and the Flemish Renaissance masters. Ritual plays a key role in the gestures of these figures, exhibiting a religious, almost regal, bearing. The artist draws from the experience of young girls transforming into women. Encountering Medieval and Renaissance masterpieces while residing in Paris, Ogasawara reconsidered these female figures within the iconography of religious paintings, reframing these symbols to fit an alluring, mysterious vision of young girls ascending into adulthood.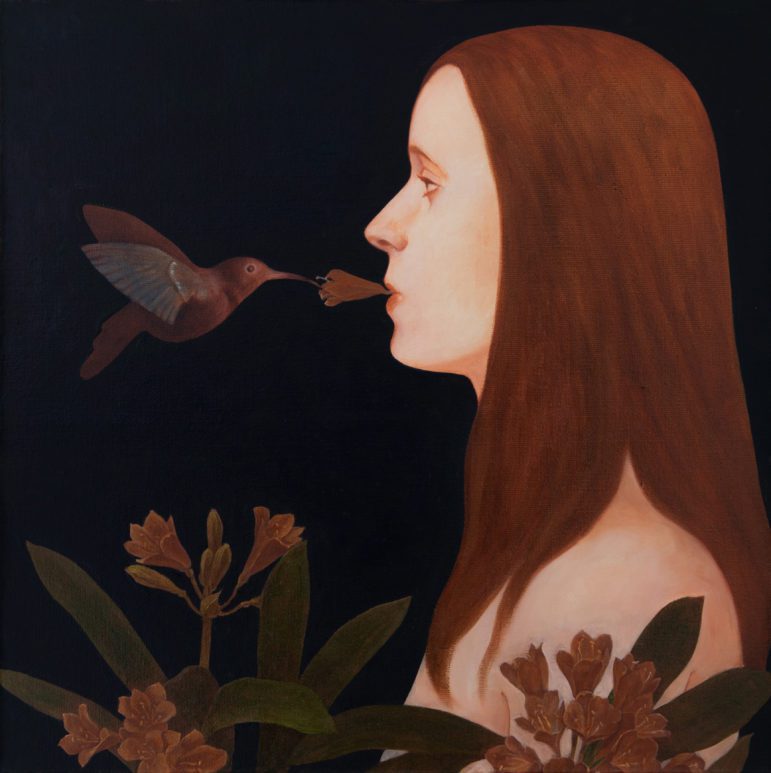 While Ogasawara's formal approach heavily indicates the influence of Northern Renaissance masters, her subject matter is decidedly Surrealist. Taking cues from the stylistic flourishes of Paul Delvaux and Remedios Varo, Ogasawara juxtaposes everyday objects and Mannerist actions into compelling compositions. Arranging figures amid a swath of negative space, the scenes are arranged in the manner of the Edo period Japan's Maruyama-Shijō school, with objects prominently featured against the backdrop of negative space. The artist also alludes to the natural world with plants and leaves incorporated throughout the compositions, another reference to the naturalist tendencies applied by the Shijō school. Ogasawara balances a decidedly Japanese minimal aesthetic with the rich cultural heritage of Renaissance Europe. Infused with the psychological underpinnings of modern Surrealism, these paintings distill the unsettling experience of adolescence into concise, sublime configurations.
Memory and Mirage includes 19 never-before-exhibited works by Ogasawara. It will open on November 10, 2018 at 6 pm with a reception honoring the artist at  Maplewood Mercantile at 145 Dunnell Road in Maplewood, NJ.  The show will run at the Mercantile through November 17.
About Winterhouse Projects Established in 2018, Winterhouse Projects is a gallery platform devoted to discovering, cultivating, supporting and promoting young, emerging artists. With a specific interest in helping to identify those artists who may have been overlooked by the traditional gallery system, Winterhouse Projects provides exhibition opportunities, professional development, and public programs. After more than 25 years of promoting the work of artists, designers and architects, Elizabeth and Mordechai Kubany founded the gallery based on their personal passion for the work. The gallery exists entirely to give these artists a platform and to provide collectors with an expansive vision for collecting. Winterhouse Projects is not a traditional gallery. Primarily web based, but also utilizing pop-up spaces to allow the art to be seen in person, its sole purpose is to bring the work of talented artists to the world. www.winterhouseprojects.com
About Aya Ogasawara Aya Ogasawara is a representational painter born and raised in Tokyo, Japan. Through her well- traveled and highly educated parents, Ogasawara was exposed to Western culture at an early age and attended Roman Catholic school in Japan to obtain a broad, humanities education. After pursuing fine art throughout high school, in 2007 Ogasawara moved to New York City to continue her arts education. She now lives and works in the United States.
For press or sales inquires, please contact Elizabeth Kubany at [email protected] .