Residents of Maplewood and South Orange will take to the polls on Election Day, Tuesday, Nov. 3, to vote for three new members of the South Orange – Maplewood Board of Education and for two seats up for grabs in the NJ State Assembly. Maplewoodians also will choose two new members of the Township Committee.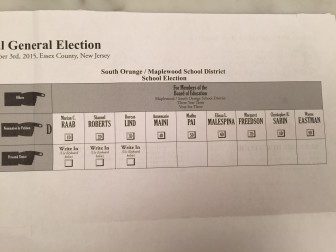 Here is more information about the election:
There are nine candidates running for three seats on the Board of Education. Read The Village Green's coverage of the candidate forums here, here and here. Read profiles and a Q&A with each of the candidates, listed here as they appear on the official ballot: Marian C. Raab, Shannel Roberts, Dorcas Lind, Annemarie Maini, Madhu Pai, Elissa L. Malespina, Margaret (Peggy) Freedson, Christopher H. Sabin, Wayne Eastman.
There are three candidates running for two seats on the Maplewood Township Committee: Democrats Nancy Adams and Greg Lembrich, running on a ticket together, and Republican Phyllis Scalera.
The State Assembly race gives voters in the 27th District the choice to send Democratic incumbents John McKeon of West Orange and Mila Jasey of South Orange back to Trenton, or they can vote for Republican challengers Tayfun Selen of Chatham and Wonkyu "Q" Rim of Whippany, or Libertarians Damien Caillault of Livingston and Jeff Hetrick of Chatham. Read NJ Spotlight's coverage of the 27th District race here.
Other races include County Clerk (Dem. Christopher J. Durkin and Rep. Adam Kraemer) and Sheriff (Dem. Armando B. Fontoura and Rep. Antonio S. Perez.)
For general election information and to follow the results on Election night, visit the Essex County Clerk's website.
Polls in New Jersey will be open from 6:00 a.m. until 8:00 p.m.
The Village Green will report up-to-the-minute results on Election Night.
Meanwhile, get out and vote!