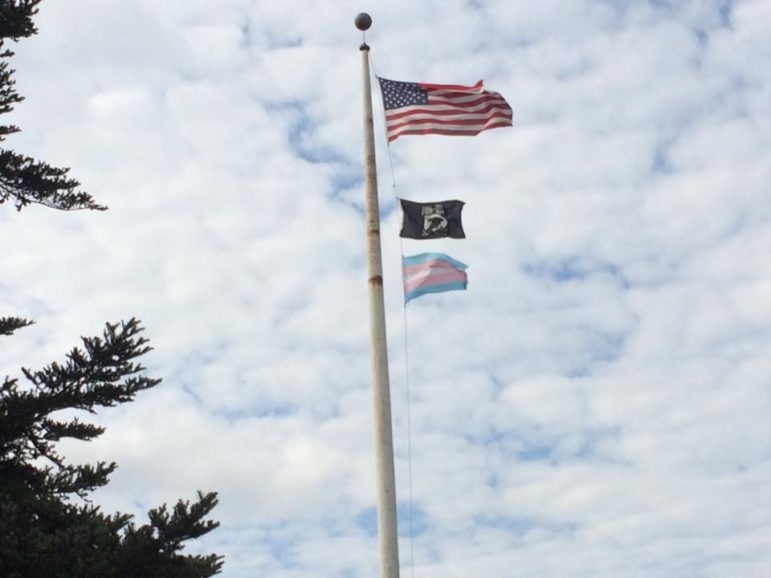 Mayor Vic DeLuca and Township Committee member Dean Dafis were joined by community members in raising a transgender pride flag this afternoon at Maplewood Town Hall in protest over proposed policies by the Trump Administration.
"We are standing in solidarity with transgender people around the world," said DeLuca at the ceremony. "How can you just erase [people's] identity?"
Local activist Shannon Cuttle said, "Youth are being told once again they should not be valued and continued, "You exist." They urged people to reach out to a youth today and "let them know they are not alone…you are loved, you matter."
"Proud to join my Township Committee colleague Dean Dafis in raising the transgender pride flag at Maplewood Town Hall in opposition to the Trump Administration's proposed policies to roll back recognition and protections of transgender people under federal civil rights laws," wrote DeLuca on the Facebook group SOMA Lounge NJ.
"Join us this evening at 6:30 pm at our rainbow crosswalk safe space (on the corner of Oakview & Valley) for a candlelight gathering in solidarity with transgender recognition, dignity, and equality," wrote Dafis. "If you have a drone, this would be a great opportunity for awesome video/photos. We especially welcome our youth who are most hurt and vulnerable right now. Let's gather arm in arm against hate. ALL ARE WELCOME near and far."
According to a report in The New York Times, the U.S. Department of Health and Human Services "is spearheading an effort to establish a legal definition of sex under Title IX, the federal civil rights law that bans gender discrimination in education programs that receive government financial assistance." According to the Times, the Trump Administration seeks to determine gender "as either male or female, unchangeable, and determined by the genitals that a person is born with." The move is widely seen as an effort to roll back Obama-era protections on the rights of transgender people.
"We will not back down," Cuttle told the crowd.