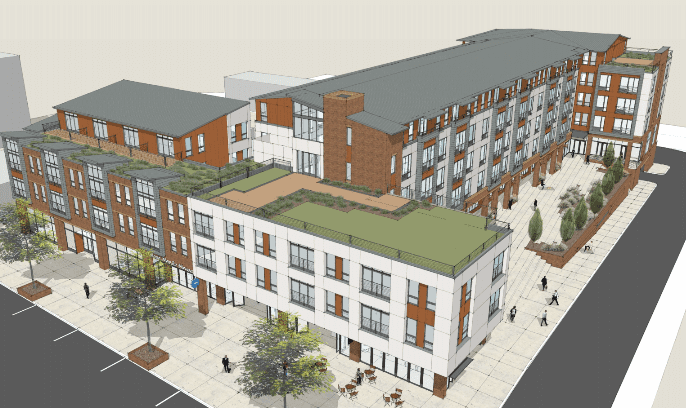 Meridia Capodagli Property will contribute roughly $250,000 to the Academy Heights Neighborhood Association as part of its financial deal to develop a 106-unit mixed-use building at 4th & Valley in South Orange.
South Orange Village President Sheena Collum also announced at Monday night's Board of Trustees meeting that Meridia would receive a 5-year staggered tax abatement on the property as part of the financial agreement worked out with the Township. As per usual, those staggered tax payments would be divided in appropriate proportion between the school district (approximately 60%), municipality (25%) and county (15%).
Collum said that the agreement was the first off-site contribution that township had negotiated with a developer, further clarifying that this was the first time a developer contributed funds "that did not directly impact their property."
The village president said that the $250,000 would fund improvements primarily focused on Founders Park — adding a water source, an electrical source, improved public space, an improved playground, trash and recycling bins — a well as traffic calming.
Collum said more details would be provided in coming days.
Asked when shovels would be in the ground for the project, which includes 8,600 sf of commercial space, Collum said she could not estimate timing as the project was about to "move through the Planning Board process." However, she said, "We can begin the planning and implementation of the public improvements."
Contacted after the meeting, Collum said that the financial agreement would be formally presented to the Board of Trustees at its next meeting on September 25.
Read more about the 4th & Valley project here:
4th & Valley Plan Approved by South Orange, Financial Agreement Still Being Negotiated
South Orange Neighbors Shape Development Project at 4th & Valley
Collum: Proposed 4th & Valley Project in South Orange 'Too Large' to Move Forward