The following is from Arts Unbound:
The Siegmund Joseph and Karen Pokert Special Exhibit Opening Reception is Saturday, August 27 from 2:00–5:00pm. The exhibit runs from August 27 to September 3. Below is information on the artists featured in the exhibit.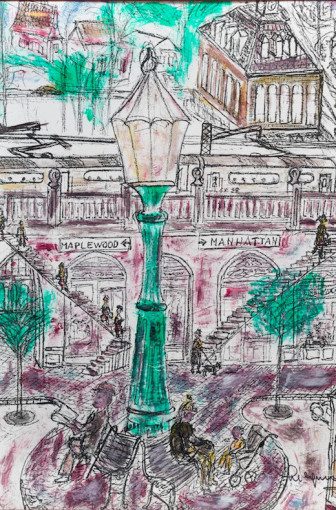 Siegmund Joseph's dynamic drawings are snap shots of daily life in South Orange Village where he was a resident for 52 years. A friendly and engaging man, he was known in the local community as "Siggy". Most days he could be found sketching out in front of Cait and Abby's café where he captured congenial scenes of people chatting over coffee or waiting for the train.
In the summer of 1948 Siegmund Joseph and his wife Yolanda emigrated to New Jersey, eventually settling in South Orange, where they raised four children and became active members of the community. For over 60 years, Joseph was the owner and operator of Siegmund Joseph Plumbing & Heating in Montclair, and he was active at Congregation Beth El, South Orange. Siegmund Joseph was 87 when he died on November 3, 2010.
Karen Bokert's vibrant paintings reflect her extensive international art studies and personal travels. A resident of Maplewood for 48 years, Bokert received a BA in Fine Arts from the Universidad de las Americas, Mexico City, and an MA in Art History from Hunter College in New York City where she studied under Robert Motherwell. In addition, she studied at the Academia di Belle Arte in Florence, Italy, at the Sommerakademie in Salzburg and with Oskar Kokoschka, and she studied Impressionism with Henry Hensche in Provincetown.
It is her experience visiting India and the American South West that informs the paintings in this exhibit. Bokert draws on the spiritual traditions and symbols of both cultures in her compositions and color palette – rich earthy browns and orange along with blue and green jewel tones — to evoke a connection to the metaphysical.
---
To see more work by artists at Arts Unbound visit the gallery and website.
The Dora Stern Gallery at Arts Unbound
Regular Gallery Hours: Mon-Fri 10am-4pm and Sat 12-5pm
544 Freeman Street, Orange, NJ 07050
Phone: 973-675-2787
Arts Unbound Showcase
Regular Hours: Wednesday–Friday 11am-6pm, Saturday 10am-6pm
100 Baker Street, Maplewood NJ 07042
Phone: 973-762-1689