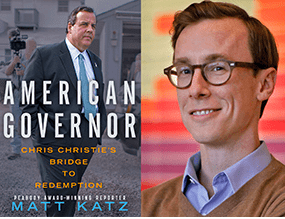 It seems to happen more and more: Words Bookstore in Maplewood getting love from Brian Lehrer or Leonard Lopate on WNYC.
This morning it was Brian Lehrer giving Words the shout-out as he interviewed Matt Katz about his new book "American Governor: Chris Christie's Bridge to Redemption." Lehrer and Katz had lots of fun dissecting how Christie has veered to the right in his Presidential bid. Katz also mused that "Bridgegate" — the scandal over lane closers on the George Washington Bridge in September 2013 — both damaged Christie's Presidential hopes and opened the door for other candidates, including Donald Trump.
At the end of the interview, Lehrer plugged Katz's upcoming appearance at Words Bookstore in Maplewood on Thursday, January 28, at 7:30 p.m.
Listen to the Matt Katz interview on this morning's Brian Lehrer Show here.
Words Bookstore, 179 Maplewood Avenue, Maplewood, NJ, wordsbookstore.com, 973-763-9500.