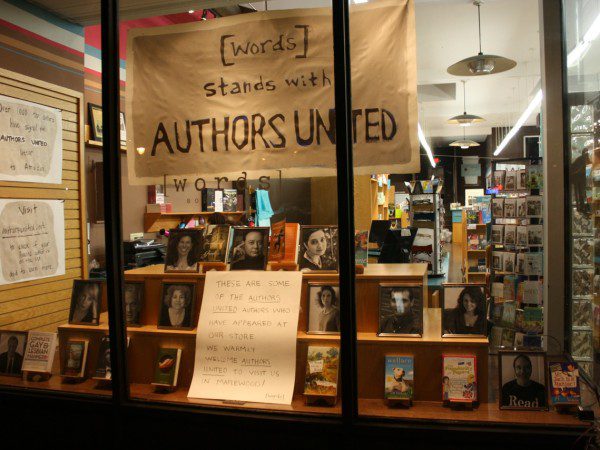 It's no secret that Word Bookstore owner Jonah Zimiles is not a fan of the mega-online retailer Amazon.
Zimiles penned an Op-Ed in July explaining the bookstore's "Don't Tread on Me" window display as a protest against Amazon's treatment of book publisher Hachette.
"At [words] Bookstore, we post a window each year celebrating our nation's freedom and saluting our community's independent spirit," Zimiles wrote.
"This year, we chose to single out the Hachette Book Group and its authors who are bearing the brunt of the current battle to preserve both our freedom of expression and the literary ecosystem that fosters a free flow of ideas as well as the extraordinary quality of books that we proudly offer to our customers. We wish to support these authors who are losing sales because of the strong-arming tactics being used against the Hachette Book Group."
Now, the Words window display is supporting Authors United, a group of more than 900 authors — including superstar writers like Stephen King and John Grisham — who are working in concert to protest policies by Amazon to, as The New York Times reported, "discourage readers from buying books" from Hachette, "as a way of pressuring it into giving Amazon a better deal on e-books." The group sent a letter to Amazon's board of directors and published the letter in The New York Times this past summer.
More recently, a group of "literary lions" such as Philip Roth joined the protest.
"We are grateful that so many courageous authors have signed on to Authors United," Zimiles wrote to Village Green, "and that they issued a statement that 'no bookseller should block the sale of books or otherwise prevent or discourage customers from ordering or receiving the books they want. It is not right for Amazon to single out a group of authors . . for selective retaliation [or to] inconvenienc[] and mislead[] its own customers with unfair pricing and delayed delivery. . . . '"
"We also appreciate in particular that many of the members of Authors United have appeared in Maplewood at our bookstore!"
See the photos of the current Words Bookstore window display below: