A sad, somber and resolute crowd gathered at the Springfield Avenue Gazebo in Maplewood on Saturday evening to mourn the loss of Tyre Nichols, who died on January 10, three days after a beating at the hands of five Memphis police officers.
As the release of video from Nichols' murder provoked protests across the nation, the local nonprofit group SOMA Justice sought to remember the light and life of Tyre Nichols, while also promising to remain vigilant in its aim to reform policing and hold law enforcement accountable.
SOMA Justice co-founder Dr. Khadijah Costley White — who was joined by Maplewood Mayor Dean Dafis, Maplewood Committeewoman Deborah Engel and South Orange Trustee Bobby Brown — asked the assemblage to walk together to the Maplewood skate park behind the Maplewood Police headquarters before marching to the front of the building. White said she was inspired to do so after reading about Nichols' passion for skateboarding.
White also noted the blazing sunset that lit up the sky as the vigil progressed. Nichols' other passion — beyond skateboarding and his family — was photographing sunsets. She expressed her wish that the vigil act as a celebration of Nichols, keeping his light alive in the world a bit longer.
White, pushing a stroller, then led the group in chants as they proceeded from the park to the steps of the police building. It was a moving image that was not lost on the participants. The released videos showed that Nichols repeatedly called out for his mother as he was beaten.
At the police station, White said the group was not protesting the local police today, but instead, "We are reminding them that we are here and we will show up. That we are watching and that we will continue to watch. And that we will continue to demand that these towns be safe for every single person that comes in and out, that lives and breathes and runs and loves."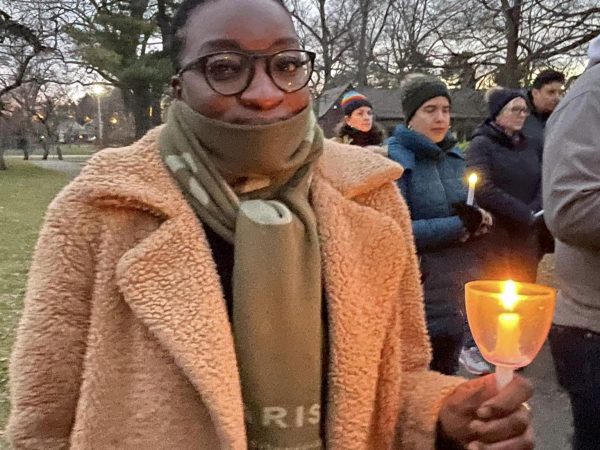 From SOMA Justice:
Vigil for Tyre Nichols, Saturday, January 28, 5pm, Gazebo next to the Hilton Library, 1662 Springfield Avenue, Maplewood
As we grapple with the released video depicting the police killing of Tyre Nichols described by the chief of police as "horrific," we are thinking about our work in South Orange and Maplewood kicked off six years ago this week.
Seven years ago in our town, police brutally attacked Black youth and refused to let them go home. In South Orange in 2020, Mayor Collum released video of a police attack on a man in the village. The 2018 Star Ledge Force Report showed we still have much to do in both towns when it comes to police violence.
We have come together as neighbors to hold police accountable and limit the amount of interactions between police and Black and brown residents, through our work in the formation of community police boards, the dismantling of our volunteer police squad (and civilian neighbors with police powers and weapons), the push to keep armed guards and police out of schools, cop-watching, organizing for the hiring of social workers to respond to mental health emergencies, and know-your-rights education.
We understand that an interaction with police officers can mean life or death, harm or survival, for too many people. Too often policing means dehumanization, not de-escalation.
Tyre Nichols should be here. So should Tamir Rice, Breonna Taylor, Aiyanna Stanley Jones, Tarika Wilson, Mike Brown, George Floyd, and so many more. The work we do together literally saves lives and protects our neighbors.
In our grief and anger over Tyre's killing, we will come together at the Hilton Gazebo at 5:00 p.m. on Saturday, January 27, to hold space and march to the police station as a way of renewing our commitment to reduce the harmful impact of policing in our community. We call for a larger investment in social resources like housing, healthcare, financial support, and mental health supports as key to public safety.
As it is also International Holocaust Remembrance Day, we also come together to stand with Holocaust victims and all victims of state and state-sanctioned violence. We find strength and courage in each other.