Maplewood resident Monica Zealand Hill, who passed away on April 16 from metastatic breast cancer at the age of 35, was honored by the Maplewood Township Committee with a proclamation on Tuesday, May 21 at Maplewood Town Hall.
Hill founded the #BeBoldandBehold platform and raised more than $350,000 for metastatic breast cancer (MBC) research during the 22 months she lived with this disease. "She was an inspiration to many, and a loving wife, mom and advocate," wrote her friend Tami Eagle, who is also fighting MBC, in an email to Village Green. "I hope her three-year-old daughter felt her mother's love from heaven this Mother's Day and always."
After Township Committee Member Nancy Adams read the proclamation (see the proclamation and video below), Eagle made a moving speech, invoking her own diagnosis, and asking all to engage in the fight to cure MBC as well as "live happy" as Hill would have wanted them to do.
More from Eagle:
May is National Cancer Research Month. Please help me educate the public that 115 women and men are dying every day of MBC; that's like a plane falling out of the sky every day. That's over 41,000 women a year. It is a fact that approximately 30% of women with early stage breast cancer will later develop to stage IV. That is why the current percentage of U.S. breast cancer research dollars for stage IV treatment needs to be increased from less than 5% to 30%.  I established a new Facebook group, METAvivors of NJ, a local chapter of METAvivor Research & Support, in memory of Maplewood resident Monica Zealand Hill and all the women who have been taken too soon from MBC. Please encourage your community of neighbors, family and friends who want to champion the cause to find us on FB so that we can collectively take action to make MBC a chronic illness instead of a deadly one.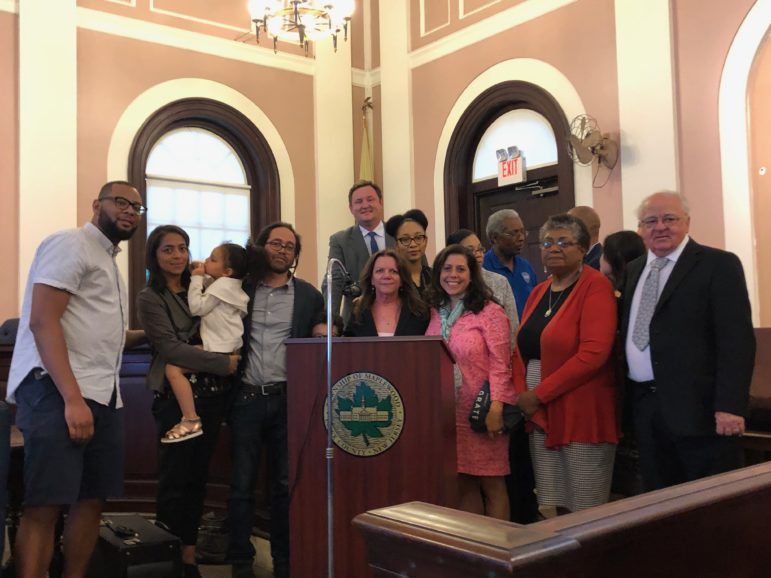 From Monica Hill's obituary:
Monica was born January of 1984, and grew up in Howell, New Jersey, the daughter of Terrence and Faye Zealand. She married her best friend and love, Aaron Hill, in May of 2013, and they have a beautiful daughter together, Olivia.
As a child, Monica emanated a loving light that drew people to her and left everyone feeling better for knowing her. She carried this special gift throughout her life, making life-long friends from across the globe and across the street. Her relentless care for the wellbeing of others made her a valued friend. Her powerful presence made her an undeniably effective advocate, leader, and community-builder.
Monica is survived by her husband, Aaron Hill and their daughter, Olivia; parents Terrence and Faye Zealand; sister Amber and her husband Warren Romine, with their children Rachael, Nathaniel, and Madeline; brother Kevin and his wife, Annie Chen, with their child Benjamin; parents-in-law, Len and Kelly Hill; sister-in-law, Candace Hill, with her daughter Chloe; and many loving and devoted aunts, uncles, cousins and a multitude of friends. She is preceded in death by her grandparents Henry and Margaret Zealand and Raymond and Matilda Waters; and one uncle, Raymond Waters, Jr.
Monica graduated from Freehold Township High School in 2002, was a graduate of Rutgers University, and received her MBA from Drexel University in Philadelphia. She started her career at Johnson & Johnson as a college intern in 2004, working in various roles until her diagnosis of metastatic breast cancer in 2017. She was most recently a Brand Marketing Manager for the Ethicon division.
Monica was diagnosed de novo stage 4 metastatic breast cancer (MBC) in July 2017 (Ductal Carcinoma In-Situ (DCIS) ER+, PR+, Her 2 Neu-, with metastases to the liver, bones and ovaries). She founded Be Bold and Behold, a successful platform to raise money for MBC research raising more than $350,000. Over 110 lives are cut short by the devastation of MBC every day. Monica wanted to ensure that everyone was aware much more needed to be done for the advancement of MBC research.
Read more here:
Maplewood Mom With Terminal Breast Cancer Raising Money for Research, December 4, 2019
Proclamation begins at 18:00: