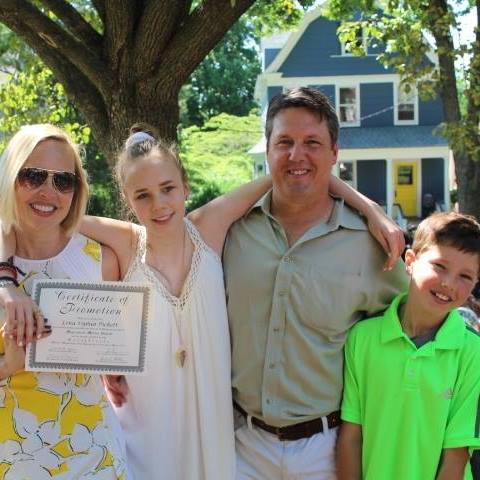 James (Jim) Michael Pickett, entrepreneur, beverage industry pioneer and beloved husband of Heidi Hovland, and father to Lena (15) and Riordan (12), died Saturday, July 1, at St. Barnabas Medical Center, after suffering a massive stroke. He was 53.
Jim was born in Cleveland, OH, on November 7, 1964 to Marie (Elaine) and James William Pickett. He was raised in a loving family with four siblings he precedes in death: Karen Walsh Pickett, Suzanne Pickett, Robert (Bob) Pickett and Matthew (Matt) Pickett.
Jim was creative and passionate, an adventure-seeker and free spirit who loved life and where it took him. After graduating from St. Edwards High School in Cleveland, Jim set off for Penn State University, where he served as social chairman of his fraternity, SAE, and earned a business degree. When he graduated in 1988, Jim moved to New York, took a job with Bozell advertising and bartended in various bars around the city. One of his gigs was aboard the Forbes corporate yacht, The Highlander, and he soon joined the crew full time, charting a life adventure that included sailings to Alaska, the Panama Canal and a key itinerary up the West coast of America, where the micro-brewery trend was just taking hold. When he left The Highlander, Jim followed his newfound passion for craft beer to Brooklyn Brewery, where he joined the sales team and found his calling. The same skills that made Jim an exceptional bartender made him an exemplary salesman: genuineness, curiosity, passion and humor.
Jim was an entrepreneur with a gift for understanding beverage industry and consumer trends and where they were going. He loved small brands with stories to tell, and he specialized in selling, distributing and creating those kinds of brands. Pipeline Brands, the first company he created, was designed to serve the small spirits brands he loved that were getting lost in the consolidations happening among the major distributorships. Gotham Artisanal was developed so cocktail-loving consumers could elevate their mixers, syrups and bitters to the level of the premium and super-premium spirits they were mixing them with. USA Beverage Company is the import and distribution arm built to support his and his partner's own passion projects, including Bravewood Bourbon and Calligraphy Wines. Nearest and dearest to his heart was Pickett Brothers Beverage, and Pickett's Ginger Beer, a company he created with his two brothers, and ran with his youngest brother, Matt.
From the modestly named "Magnificent Seven" in high school to his beverage industry friends, baseball and softball teams, golf buddies, and tight-knit Maplewood crew, a friend of Jim's was a friend for life. Continuing the maritime theme set early in his career, Jim met his wife Heidi in 1992 at the Fall Ball aboard the U.S.S. Intrepid, the aircraft carrier turned Sea, Air & Space Museum. Jim and Heidi married in 2000. He loved his family deeply, fiercely and with great pride. Heidi and their two children, Lena and Riordan, were the center of his universe and every beat of his heart. Their golden doodle, Clementine, continues to wait for her best friend, Jim, to come home.
Shortly before his death, Jim and two partners set to buy and reinvent an established bar in Maplewood, NJ known as O'Reilly's. Jim died a very happy man, content with his family and many friends, and excited to add "Bar Owner" to his list of accomplishments. Heidi and his partners plan to make sure his dream becomes a legacy.
The night Jim died, he saved five lives through the gift of organ donation, his final act of love and generosity. In lieu of flowers, donations can be made in Jim's memory to www.njsharingnetwork.org.