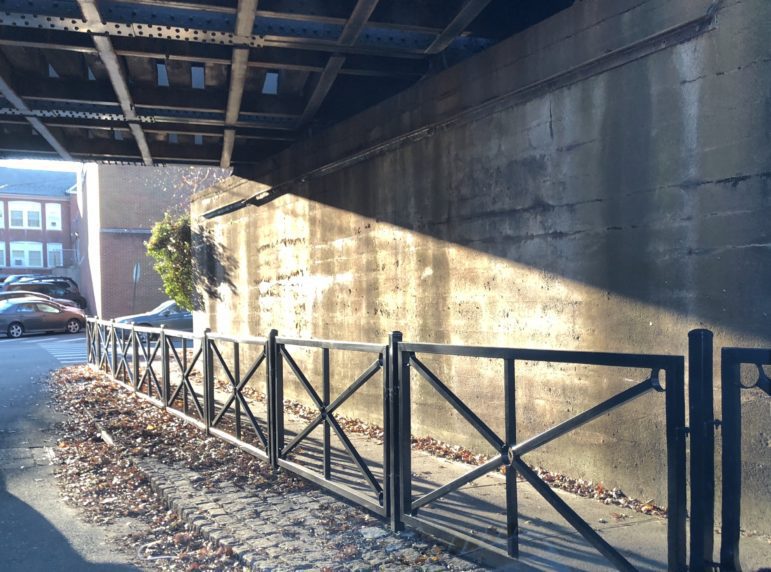 A new fence along Baker Street in Maplewood, new signs asking pedestrians to use crosswalks, and increased police enforcement are all part of a plan to keep commuters from jaywalking as they walk from the NJ Transit commuter parking lot on Maplewood Avenue and cross Baker Street en route to the Maplewood Train Station.
Township Committee member Nancy Adams explained to Village Green that the Township began discussing a fence on Baker Street at the Engineering, Public Works and Planning Committee about three years ago. Town leaders and staff "spent a lot of time looking at designs and combining it ultimately with the paver project in the village," said Adams. "The [Maplewood] Village Alliance was also consulted on the design of the fence."
According to Maplewood Deputy Mayor Frank McGehee, the township paid for the fence "as part of the overall pedestrian safety/beautification project" in Maplewood Village. (The town authorized a contract to All Guard Fence Company for the purchase and installation of the fence in the amount of $17,850.)
However, not all jaywalkers are deterred by the fence.
One resident wrote to Village Green to report that some commuters are going around the fence and walking along the curb before dashing out across Baker Street and jaywalking to the other side.
"The fact that people are jaywalking and putting themselves in harm's way is unfortunate," said McGehee. "We've had several near misses [before fence installation] of pedestrians jaywalking as cars come under the bridge as well as take a left from Maplewood onto Baker. The conditions are even worse in the winter when it's dark and many of our commuters are wearing dark clothing." McGehee noted that the fence is intended to prevent jaywalking.
"Obviously we want people to use the crosswalk as it's in their best interest and makes them safe. It is equally the responsibility of the pedestrian as well as to driver to use good judgment and be aware of each other," said McGehee.
The Township has beefed up police enforcement of speed limits and traffic laws in recent years and held two Traffic & Pedestrian Safety Summit in response to community outcry over pedestrian safety issues (including accidents where pedestrians were struck by vehicles, including a 7-year-old who was injured in 2015.). Speed strips and bumps have been installed in places like Prospect Street south of Springfield Avenue — and pedestrian crossing signs, speeding signs and increased enforcement have been stepped up on major streets like Prospect, Ridgewood and Wyoming. The town has distributed pedestrian safety literature and handed out reflective gear to commuters at the train station.
Adams noted that, although much of the conversation has been focused on drivers' responsibility in the last few years, she has "never wanted pedestrian safety conversations, discussions and decisions to be solely vehicular driver-related."
"It is the mutual responsibility, in my opinion, that every time any person leaves their home into the world we share, they must be responsible citizens for both themselves and others," Adams told Village Green. "Pedestrians need to make sure drivers see them even when they are in a crosswalk, and drivers must stay alert to pedestrians and cars around them. … But, reminders are good and people all need to bear responsibility for their own and fellow citizens' safety. This is what community is all about."
"Saving some time could cost you your life," McGehee said at the Dec. 4 Township Committee meeting, in reference to jaywalkers. "Please don't take this lightly. Walk across the crosswalk. … We are trying to help you and serve you, so please do your part."
Adams acknowledged reports of the "people walking along the street side of the fence." She noted that bushes had first been considered but the thought was that they would be trampled. Adams asked people to "honor the reason that [the fence] is there and please walk behind the fence and just to the corner."
Maplewood Mayor Vic DeLuca is clearly in agreement.
At the December 4 Township Committee, DeLuca asked the Township Administrator to direct the Police Chief to step up enforcement.
"Ms. Viveiros, on this fence thing … would you ask Chief DeVaul to put some police officers there in the morning and if people are walking in the street, either give them warnings or tickets. Most of those folks, they're parking in that lot, they're running across. It's just too dangerous — and that's why we put the fence up."