After listening to feedback from around 1,000 community members who attended meetings detailing an ambitious $130 million long-range plan to repair, expand and integrate its schools, the South Orange-Maplewood School District Interim Superintendent presented a slightly more expensive alternative option that would keep the current grade configuration largely as is.
Dr. Thomas Ficarra presented the latest round of plans at Monday's Board of Education meeting.  The repair and upgrade portion of the plan, projected to cost $93.1 million, remained mostly unchanged from the original presentation unveiled last spring.
The repairs are necessary for the health and safety of students and staff and "a must for the survival of your district," said Ficarra as he showed photos of collapsed ceilings, rusting boilers, exposed wiring, rotting bleachers, antiquated science labs and crumbling roofs at all the district's schools. The list was pared down from an initial one that would have tallied $217 million.
Hand-in-hand with the repair plan is a scheme to reconfigure grades to address the issues of overcrowding and segregation that has continued to plague the elementary schools. That will cost the district between $34-39 million (depending on which one of two options is chosen), most of which will consist of constructing  additional classroom space.
"…There are volumes of research that says integration benefits everyone," Ficarra said. "So we are bringing kids to a diverse school district and [then] isolating them into small pockets."
See the full presentation, including line items for each repair, in this PDF:
Ficarra's initial recommendation was to scrap the current system of two middle schools housing students in grades 6-8, and create two new central schools: one for grades 5-6 and the other for grades 7-8.  All elementary schools would then be grades K-4. He said this configuration was not only the cheapest but had the most desirable impact for education.
But after multiple community forums, "One thing came back loud and clear": many were concerned it would create too many transitions for students.
The administration went back to the drawing board and came up with an additional plan which makes only slight changes to SOMSD's current grade configuration, separating Marshall and Jefferson schools so they are both K-5. The rest of the grades would remain unchanged.
Because the district is already overcrowded and projected to grow, and because its decomposing portables must be eliminated, meaning a loss of 16 classrooms, either plan requires additional classroom space to be constructed at the six elementary schools.
"Option B," the original recommendation, is projected to cost $34.5 million. The new, alternate plan ("Option J") would tally $38.8 million. Option B would be less expensive because it involves additions primarily at the two middle schools, and at only one elementary school.
Either option would require some redistricting, which Ficarra said is necessary to truly integrate the elementary schools so that each one mirrors the racial and economic population of the district as a whole.
Currently, that is not the case. For instance, 24% of SOMSD K-5 graders are black – yet Seth Boyden's population is 78% black and South Mountain's is just 14%.
In addition, 14% of K-5 graders in the district are economically disadvantaged, but 56% of Seth Boyden's population — and just 5% of South Mountain's — is.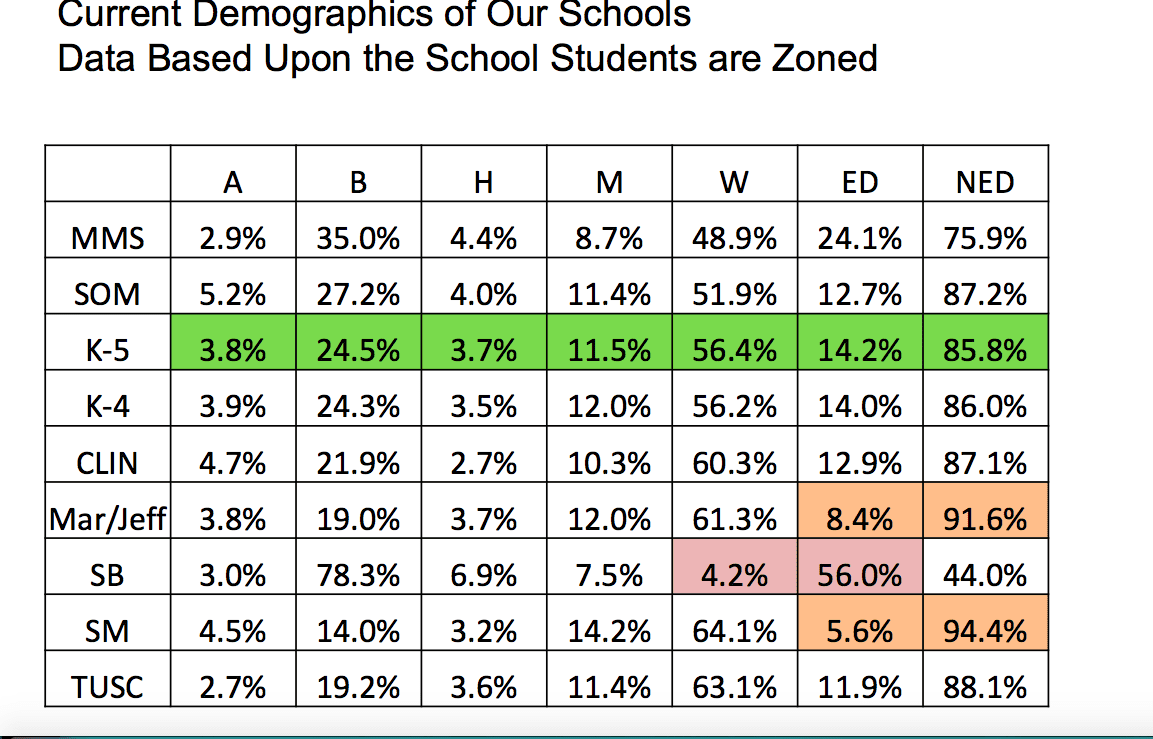 Both options involve increased transportation costs, with Option J having higher costs only at the elementary level, while Option B has higher costs for central grades 5-6 and 7-8 as well.  Transportation costs are not included in the facilities budget, but are part of the annual operating budget.
In addition, Ficarra said many residents advocated for maintaining some level of "controlled choice" as is currently the case for students who opt in to Seth Boyden.  A group of principals, led by former CHS Principal Elizabeth Aaron, will work with a consultant to identify and develop themes for the different elementary schools, and families will be able to rank their preferences when registering for an elementary school.
A second subgroup will work to develop a transition plan to help students and families acclimate to the new configuration and choice process.
At the same time, the Superintendent and the BOE, along with assistance from architects, engineers and demographers, will plan the facilities work and reconfiguration of attendance zones.
The projected additional annual tax impact would be:
Option B: Maplewood $536/South Orange $622
Option J: Maplewood $543/South Orange $630
Next, the administration will discuss the plans with Board of School Estimate members and hold public workshops. The BOE will vote on whether to submit the plan to the state in November and would request the funding from the BSE in February. The BSE would make its decision in March.
A discussion on redistricting will take place over the winter. As far as the repairs, Ficarra said it is a two-year timeline with much of the work being done over the summers.
"I think the opportunity is now here for us to move this district ahead both in terms of its physical plant but also rethinking and re-dreaming on the elementary school level to give you the kinds of choices you deserve, and [to] have a future forward school district at every level," Ficarra said.