From Temple Sharey Tefilo-Israel: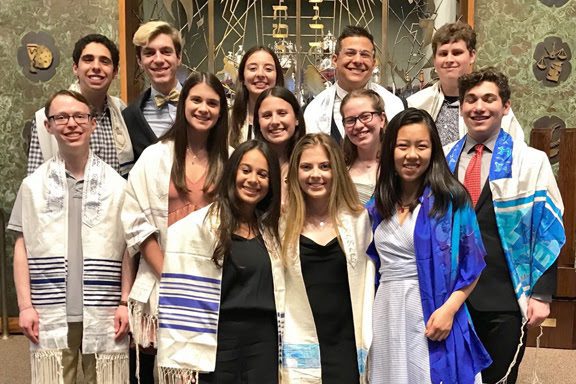 Temple Sharey Tefilo-Israel (TSTI), the Reform synagogue in South Orange, bade a fond farewell on May 4 to its latest graduating class from Hebrew High, STISY (the senior youth group) and the religious school's madrichim (classroom aide) programs. The 12-grade students, who led the Friday evening service, spoke about their experiences as Jewish teens as well as their experiences at TSTI; some have been in the community since preschool. In addition to sharing what they learned, both in the classroom and on educational field trips, the teens spoke of the warmth and sense of community they feel when they walk into the synagogue.
The various teen programs at TSTI have helped the students develop their identity as contemporary Jews, taught them to see social and global issues from a Jewish perspective, provided opportunities to volunteer and engage in social justice programs, and reflect on how their experiences at TSTI have shaped them.
Graduating this year are (front row, l. to r.) Sophie Alvarez of South Orange, Rachel Horwitz of Millburn and Samantha Lu of South Orange; (middle row, l. to r.) Ian Lowenthal of Maplewood, Maya Goldner of South Orange, Maya Cherins and Izzy Cotenoff of Maplewood and Noah Jaffe of Short Hills; (back row, l. to r.) Ben Rothstein of Maplewood, Ethan Bernstein of Milllburn, and Lauren Yelner, Jay Ascher and Aran Wollard of Maplewood.
Temple Sharey Tefilo-Israel (TSTI), located at 432 Scotland Road in South Orange, is a vibrant, inclusive Reform congregation that welcomes Jews by birth or by choice, interfaith, traditional and non-traditional families, and children of all abilities. It offers lifelong learning and creative, enriching programs for all members, from preschoolers and teens to older adults. Its full complement of religious services, early childhood and religious school education, cultural programs and activities foster connection, engagement and community outreach. TSTI's members live in Maplewood, South Orange, West Orange, Short Hills, Millburn, Livingston and surrounding areas. For more information, please visit www.tsti.org.