There's been a lot of chamge in Maplewood and South Orange over the years, but some things stay the same.
The house at 29 Clinton Avenue in Maplewood, for example, has been owned by the Gruning family since 1945. A tour through the house is a quick trip back in time. Bathrooms have been updated, but the house has been largely untouched — giving you a sense of what it was like to grow up in Maplewood in the 1950s and '60s.
Christine Gruning Hembree will tell you that Maplewood was a wonderful place to grow up then as now.
"There are just more cars parking for the trains," she noted, but she said that Maplewood continues to be a great place for kids: "You can walk everywhere, run around outside. And there are still the best neighbors."
Change is, however, coming to the Gruning's home. Christine's father Herman passed away last May at almost 100 years of age. Christine reports that he was born in Brooklyn to a German immigrant family that then moved to Maplewood where he graduated from Columbia High School. He went to Princeton and Columbia Law School ("he was first in his class") and worked at a "white shoe" law firm on Wall Street. But after WWII, where he served in the Coat Guard and was stationed in Scotland and London, he came home and eventually took over the family business.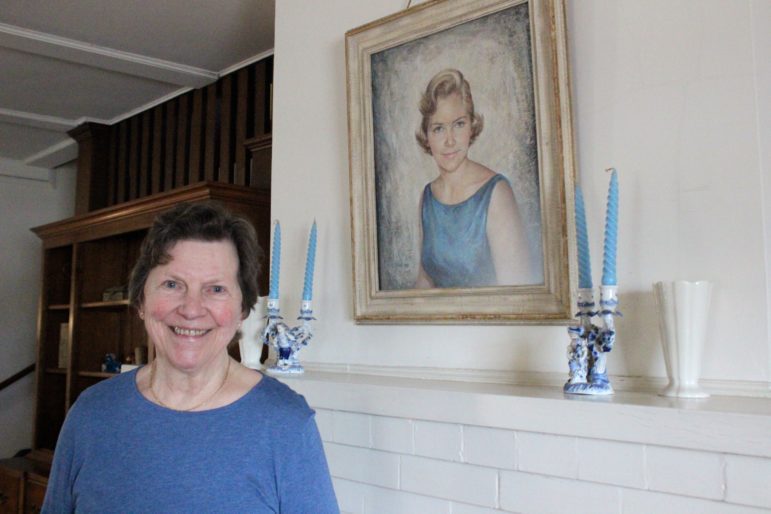 For those who know a little bit about local history, that business is iconic.
Gruning's Ice Cream shops were ubiquitous in the area.
"Gruning's produced its wonderfully rich, flavorful ice cream for over 80 years from 1910 through 1991," according to Durand-Hedden House, Maplewood's historical society. "Sadly, its confectionary stores, ice cream and candy are no more."
In its heyday, Gruning's had seven locations — with a flagship store in South Orange Village (59 South Orange Avenue — currently occupied by Boccone South) and a celebrated location "At the Top" in Maplewood. Other outlets were in Newark, Montclair, Caldwell, Plainfield and Short Hills. They were famous for their delicious ice cream flavors (many remember peach fondly), sundaes, and also for their hot fudge sauce — a recipe that Christine says people are still trying to pry from her.
"We had the best ice cream and the best candy," said Christine, who has held onto some of the family molds for the chocolates. "All the kids hung out at Gruning's. I didn't because half my relations worked there!"
Christine noted that although many pronounced the store name to rhyme with "runnings," the correct pronunciation of the family name is GROO-ning.
(Read a terrific history of Gruning's in NJMonthly here.)
After going to college in Missouri, Christine ultimately came back to the region but not to Maplewood. She and her husband, Wylie Hembree, now a retired endocrinologist, wound up in Bergen County. Her brothers are in Minnesota and Louisiana and her daughter Amanda, a speech-language pathologist, lives and works in Manhattan. Her cousin Marilyn Schnaars, whose father Henry was head ice cream maker for Gruning's, still lives in Maplewood where she is a member of the Woman's Club and a Trustee and Docent of Durand-Hedden,
Allison Ziefert is listing agent for the house at 29 Clinton: "One of the things I love most about what I do is looking at old houses. I never get tired of it!"
Ziefert, who has a degree in historic preservation, was effusive about the historic aspects of the house:  "When I see the cool vintage wallpapers, woodwork and antique pieces in this home I get very excited. When I get to know the family history of a property that makes the experience all the richer. So many people remember Gruning's with nostalgia. Can you imagine a better childhood than growing up with an ice cream shop in the family?"
The five-bedroom, four-bath home is being sold "strictly in AS IS condition," reported Ziefert. Described as "Craftsman-style", the house is just a short walk to Maplewood Village and the train. It features an unfinished attic and basement space, original coffered ceilings, fireplace and woodwork.
(Visit the 29 Clinton Avenue website for photos and more.)
Besides her enjoyment of house, Zierfert said, "It's been fun meeting the Gruning/Hembree family and hearing their tales and seeing some of their many antique ice cream and chocolate molds. I am still working on getting their secret hot fudge sauce recipe."