The final numbers are in for the Holiday Pop 'n Shop, run by the South Orange Village Center Alliance, at 65 South Orange Avenue.
Open for nine days in December, the shop brought in $20,605.57 (the shop was open Dec. 3-6; Dec. 10-13; and special additional day on Dec. 19), selling items ranging from art, jewelry, honey, soaps, to men's and women's apparel for an average of $2,289.51 in sales per day.
"As Larry David might say, pretty pretty good!" said Bob Zuckerman, Executive Director of SOVCA.
(It should be noted: Pop 'n Shop merchants kept 80% of their sales while SOVCA used the balance to pay for the operation of the store including a full point of sale system, furniture, lighting, gift bags and more.)
Of course, Zuckerman and others on the SOVCA Board and within the Village government know about the Village Center's potential. Last year, a retail study performed by JGSC Group revealed that "the 5-mile radius area held $6.1 billion in retail demand" and that South Orange Village was experiencing $70 million in retail "leakage" per year as residents shopped elsewhere because they could not find what they wanted in South Orange.
But it doesn't need to be that way, according to experts. Joe Getz of JGSC compared the South Orange market potential to that of major U.S. cities like Atlanta.
"This is as good as anything I've seen in 30 years of work," said Getz last year.
Getz outlined how South Orange needed to re-educate consumers and developers and improve the parking perception. Getz suggests doing this through outreach to local media, and producing marketing materials and campaigns including brochures, postcards, and window signs — all programs that SOVCA has since undertaken.
Zuckerman, SOVCA Chair Matt Glass, Village President Sheena Collum and others have been working hard to attract and retain retail tenants. One effort was the pop-up shop, a continuation of the New Jersey 350 Shop that visited the Center last holiday season.
However, this year's pop-up shop featured more local artisans (last year's shop, by its nature, needed to feature items touting the State of New Jersey's 350th birthday), and it even had a pop-up event: an evening of Southern Korean barbeque courtesy of Kimchi Smoke. Collum and Zuckerman have been collaborating to lure chef/owner Robert Cho to open a permanent location in South Orange (Cho told Village Green he was very open to the idea here).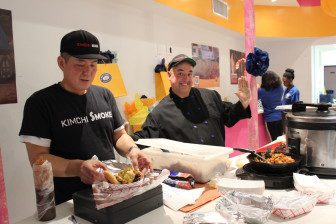 On the evening of the pop-up Kimchi event, the store was packed — benefitting from lots of promotion via social media (credit to Zuckerman and assistant Melissa Hodge) and to overflow from the Hometown Holiday Elf Parade and tree lighting (also run by SOVCA).
With more residents coming to the Center through new apartment developments like the Gateway and Third & Valley, and with Landmark Hospitality planning to open Village Hall Restaurant and The Pump House beer garden in 18 months, the future is looking bright for South Orange Village Center. Zuckerman and Glass will be presenting SOVCA's annual report and budget request to the South Orange Village Trustees on Monday, January 11. Here's hoping for more good news.
Click on any image below to see a slideshow of photos from the 2015 Holiday Pop 'n Shop.