It's the weekend, and oh what a busy one it is! Celebrate by getting out and enjoying all that The Villages (and beyond) have to offer.
Here's what's happening in the Villages (and beyond) this weekend:
The tiny hamlet of Poor Prairie doesn't see a lot of folks coming into town – least of all men – so when one gets off the train, everybody talks, especially since he has the only inflated basketball in town. Set in the historic 1930s Dust Bowl in the rural Midwest, The Tall Girls explores class, gender, and the history of women in sports, and asks just who can afford the luxury of play. You can see it this weekend at Luna Stage in West Orange.
The Tall Girls
October 23 and 24 at 8 pm / October 25 at 3 pm
Luna Stage, 555 Valley Road, West Orange, NJ
Tickets are $37 and can be purchased online here
Take a spine-tingling after hours tour of Liberty Hall Museum in Union tonight. Museum staff will share their own paranormal experiences with you before embarking on a guided, candlelit tour of the museum. Perhaps you'll even come away with your own ghost stories! Light refreshments will be served
Ghost Tour
Friday, October 23 at 7 pm
Liberty Hall Museum, 1003 Morris Ave, Union, NJ
$20. Reservations at 908.527.0400
In his eighth sensational season as principal conductor of the London Symphony Orchestra, Valery Gergiev returns to NJPAC on Saturday with the orchestra in a program that hits the sweet spot in his formidable artistry – music of Béla Bartók and Stravinsky, dazzling, explosive and colorful works from the early 20th century that vigorously celebrate the virtuosity of a great orchestra.
London Symphony Orchestra
Saturday, October 24 at 8 pm
NJPAC, 1 Center Street, Newark, NJ
Tickets are $29 – $99 and can be purchased online here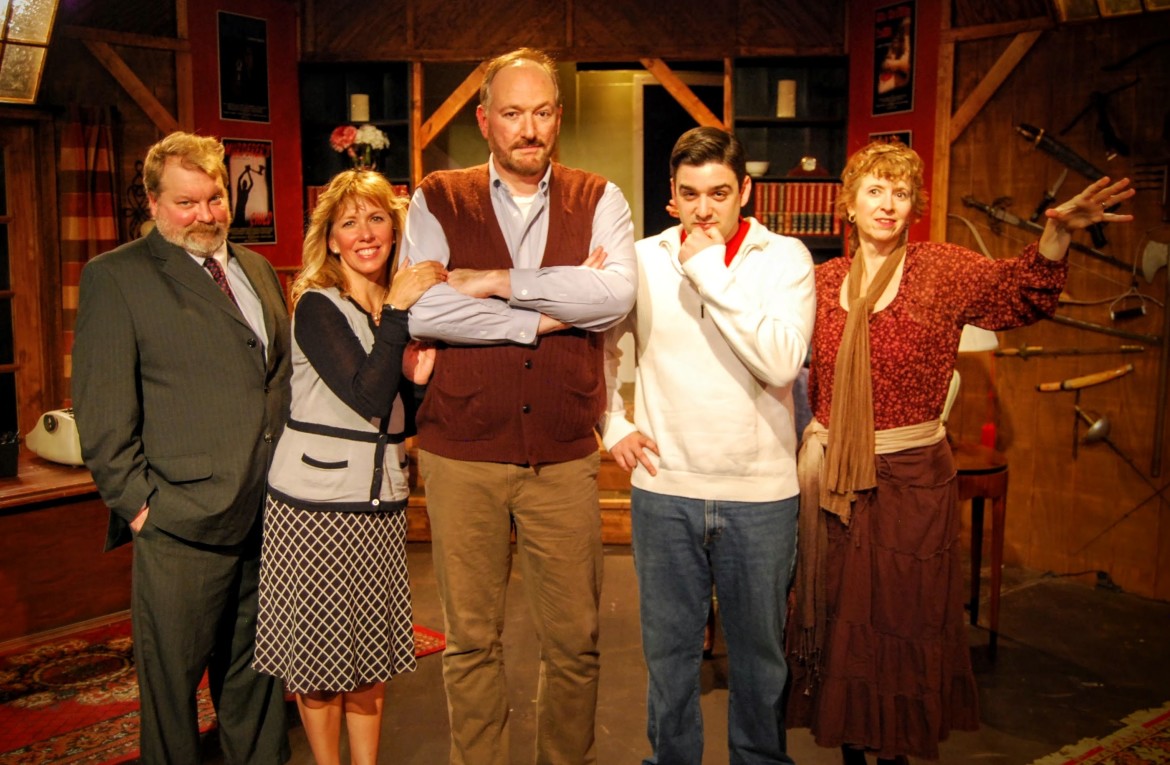 interACT Theatre Productions in South Orange presents Deathtrap for the last time this weekend. This classic thriller-comedy written by Ira Levin, famous for its plot twists and meta humor, and holds the record for being the longest running thriller-comedy on Broadway. Who dies? Who lives? Who fakes their death? You'll have to head to the Baird Theatre to see for yourself!
interACT Theatre presents Deathtrap
Friday and Saturday at 7:30 pm
The Baird, 5 Mead St, South Orange, NJ
Advance tickets are $18 / Tickets at the box office are $20.
On Sunday night, join other art lovers at the exhibit opening of Common Thread at Gallery 1978. Join the artists for discussion, refreshments and entertainment.  Curator Onnie Strother described the artistic endeavors of these three remarkable women: The personal combines with the political and the magical with the spiritual in the work of artist Bisa Washington, Eleta Caldwell and Rosalind Nzinga Nicol. Repurposed materials and found objects are transformed into objects of power and beauty in the hands of three master artists.
Common Thread Exhibit Opening
Sunday, October 25 from 2 pm – 5 pm
Gallery 1978, 1978 Springfield Avenue, Maplewood, NJ
Free
Head to the Durand-Hedden House on Sunday for an afternoon of dance, history, and American Indian culture. The Thunderbird American Indian Dancers will perform traditional American Indian dance and music from tribal groups found throughout the United States including the Robin Dance, Fish Dance, and Smoke Dance of the Iroquois; the Contest Dance of the Winnebago; the Fancy Shawl Dance; the Old Style Traditional Warrior Dance of the Kiowa and the Hoop Dance.
Thunderbird American Indian Dancers
Sunday, October 25 at 2 pm (doors open at 1 pm)
Durand-Hedden House, 523 Ridgewood Road Maplewood, NJ
Free, but donations are welcome
The Friends of the South Orange Library's Book Cage, the hidden gem of a used bookstore on the second floor mezzanine level of the South Orange Library, will be having its grand reopening on Sunday. Stop by for refreshments and to shop the revamped selection of 50-cent paperbacks, $1 children's and YA hardcovers, and $2 adult hardcover books.
Friends of the South Orange Library's Book Cage Sale
Sunday, October 25 from 1 pm – 4 pm
South Orange Library, 65 Scotland Road South Orange, NJ
Free admission, great bargains!
Dharmachakra Buddhist Center will hold a special event —The Blessing Empowerment of Dorje Shugden— on Sunday with Resident Teacher Kadam Peter Kurczynski. An empowerment is a special guided meditation that connects meditators with their pure potential and inspires them to improve their good qualities so they can be of greatest benefit to all living beings.
The Blessing Empowerment of Dorje Shugden
Sunday, October 25 from 10 am –  5 pm
Dharmachakra Buddhist Center, Village Mall, 2933 Vauxhall Road, Millburn, NJ
Cost is  $65 / $35  for  members. This includes a sadana (prayer book).
Check out our Events Calendar to see what else is happening and enjoy the weekend!