From the Maplewood Department of Cultural Affairs: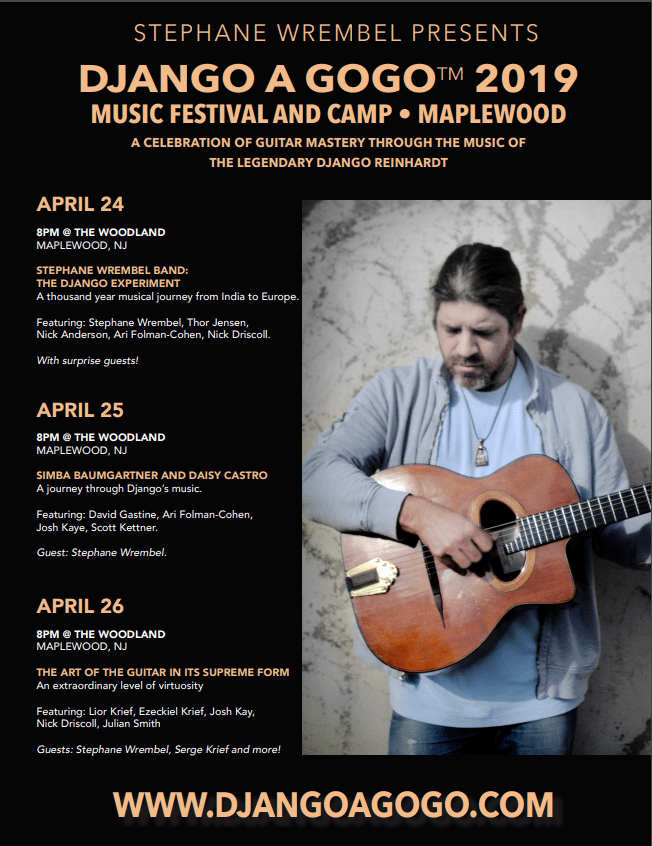 Beginning April 23, an elite group of virtuoso guitarists from around the globe will descend upon Maplewood, NJ to participate in the 3rd Annual Django a Go Go Music Festival and Camp.
Consisting of workshops, informal jams and public performances, the Festival is hosted by the Township of Maplewood and Produced by award winning musician Stephane Wrembel. A proud Maplewood resident, Wrembel is considered one of the world's preeminent guitarists specializing in the unique style of Gypsy Jazz legend Django Reinhardt (pronounced Jango).
Best known for his Grammy Award winning composition "Bistro Fada" from the Oscar Award-winning film "Midnight in Paris," Wrembel has assembled an unparalleled group of musicians to conduct workshops, demonstrations and appear three unique concerts at the Woodland in Maplewood. Each performance will follow a different theme and mix of musicians. Wrembel will perform every night along with other special guests.
April 24, 2019, 8pm @ The Woodland
Stephane Wrembel Band: The Django Experiment
From the desert to Debussy, from India to France, music history through Django's musical genius
Featuring: Stephane Wrembel, Thor Jensen, Nick Anderson, Ari Folman-Cohen, Nick Driscoll & Surprise guests
April 25, 2019, 8pm @ The Woodland
Simba Baumgartner and Daisy Castro:
The music of Django Reinhardt
A journey through Django's music, featuring Simba Baumgartner and violin virtuoso Daisy Castro
Featuring: David Gastine, Ari Folman Cohen, Josh Kaye & Scott Kettner
Special guest: Stephane Wrembel
April 26, 2019, 8pm @ The Woodland, Maplewood, NJ
The Krief Brothers: Django virtuoso
An extraordinary level of virtuosity. The art of the guitar in its supreme form.
Featuring: Lior Krief, Ezeckiel Krief, Josh Kaye, Nick Driscoll, Julian Smith
Special Guests: Stephane Wrembel, Serge Krief and special guests
For more information about The Django A Go Go Festival in Maplewood: Django at the Woodland. All Maplewood concerts will be at the Woodland located at 60 Woodland rd. Maplewood NJ 07040. Tickets for the Maplewood shows are $30 each (or $70 for all three) and are available at www.mt.cm/django-Go Go-2019
Django A-Go-Go Music Camp
From Wednesday, April 23 – Saturday April 26, thirty guitarists who have paid the $950 tuition will participate in workshops and masterclasses in Maplewood conducted by many of the guitarists performing as part The Django A-Go-Go Festival. Expect to see guitar cases tucked in corners at local restaurants or slung over the backs of pedestrians on Maplewood Avenue.
The Django A Go Go Festival All-Star Concert at Town Hall in New York City Saturday April 27 at 8:00 PM
STEPHANE WREMBEL
SIMBA BAUMGARTNER
DAVID GASTINE
LIOR KRIEF
NICK ANDERSON
DAVID LANGLOIS
BRIA SKONBERG
RAPHAEL FAYS
SERGE KRIEF
EZECKIEL KRIEF
THOR JENSEN
ARI FOLMAN-COHEN
SARA L'ABRIOLA
AND OUR VERY SPECIAL AMERICAN GUESTS TBA
Tickets Available Now at www.thetownhall.org 800-982-2787
Who was Django Reinhardt?
Regarded as one of the greatest guitar players of all time, Django Reinhardt (1910-1953) was a hugely influential jazz artist whose unique, technically groundbreaking style spawned a musical genre all its own.
"Django Reinhardt remains the greatest jazz musician Europe ever produced and the most celebrated icon of the Gypsies. That he was able to revolutionize guitar playing with only two functioning fingers on his left hand – he lost the others in a fire – only adds to his legend. Pretty much every guitar maestro has paid homage: BB King, Julian Bream, Hank Marvin, Robert Fripp and Carlos Santana are all fans; Jimi Hendrix formed his Band of Gypsies in honor of Reinhardt."