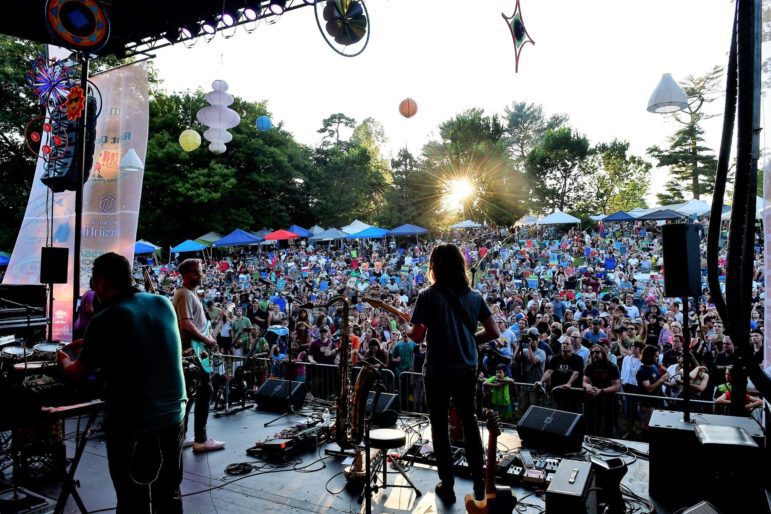 The 15th Annual Maplewoodstock Music and Art Festival is just around the corner, the weekend of July 14 and 15. There have been a lot of changes over these 15 years, not only with the event but also within MapSO, (or SOMA, the debate lives on).
The event started because some local bands were looking for a gig. The iconic Maplewoodian Jim Buchanan was the Director of Cultural Affairs at the time and with his help the original organizers; Gary Shippy, Jamie Ross, Tarquin Learned and John Williams, set up a couple of low risers in Memorial Park. The rest, as they say, is history. Some of the additions over the years include; selling merchandise, art and food vendors, paid closers, the Kids Zone, beer garden, a fully functioning stage, a professional production company, and the most recent addition is on-stage sign language interpreters.
Maplewoodstock is of and for the community! The committee is comprised of nine local volunteers; Gary Shippy, Jamie Ross and Tarquin Learned, Drew Dix (our committee chair), Jim Robertson, Katie Clayton, Kevin Chandler, Tom Kerns, and Kerry Miller. With such a large and popular event, there are bound to be misconceptions. Hopefully, this will help alleviate those misconceptions.
Maplewoodstock is a private event supported by Maplewood Township. The Committee must secure a permit to use the park and we are 100% responsible for managing the event. The township provides security, DPW and EMS support, for which we are charged a fee.
All committee members and other volunteers, including the sign language interpreters, are unpaid. Some committee members even donate money. One paid exception is the young man who cleans the port-o-johns, because…well….he deserves it!
Revenue generated from merchandise sales, vendor and band fees, ads/sponsorships and donations is used to pay for the all the costs of the event.
The beer garden is managed by the South Orange Elks and revenue is shared with Maplewoodstock.
Regarding the music selection process, there are guidelines and processes that we follow;
Each band must apply via Maplewoodstock.com once that year's application process is initiated. The application requirements include, paying the application fee, answer some questions, and providing a digital recording of one song. Each selected band is paid a small stipend after they perform.
Each member of the music selection subcommittee, (made up of 4 committee members), listens to each of the digital music selections. One weekend in April the subcommittee will meet and hash out which artist/band each believe to be the best selections. Very rarely is there a unanimous agreement on a band/artist. Lots of discussion and debate ensues. Note: talent is not the only criteria, although it is obviously important.
Preference is always given to those acts who have local ties, but that does not mean that all of the acts are going to be local.
Some facts about 2018;

116 band applications were received for 19 slots.
Of the 19 selected:

11 have ties to MapSO
11 were first time applicants
2 have previously applied, but were never selected
6 have played the event in a previous year
Now for some rules:
Pursuant to Maplewood Municipal Ordinance §193-23 Memorial Park opens at 5:00am. No one is permitted to enter the park before 5:00am unless permission is granted by an appropriate Township Official.
All township rules governing the use of public parks are applicable.
Canopies and other personal items are permitted in Memorial Park only after 5:00am each day of the event. DO NOT SET UP YOUR CANOPY FRIDAY NIGHT! Any personal items that are placed prior to 5:00am will be removed by the Maplewood Police Department.  All personal items must be removed at the end of each night. Exceptions are items from paid vendors and approved event staff.
Canopy Policy:

Only one canopy is allowed per family. Canopies must be 10' X 10' or smaller and placed only in designated pre-marked locations
Canopies with side panels, tents with side panels, umbrellas or other items that block the view of others are prohibited.

Unoccupied Spaces:
No person is permitted to "save a space."  Any personal item left unattended for more than 2 hours after the start of the event is subject to removal by the police.
WHATEVER YOU BRING IN TO THE PARK, YOU MUST TAKE IT WITH YOU WHEN YOU LEAVE – BOTH NIGHTS. If left the items will be removed.
Only authorized individuals, identified by lanyards or wrist bands, are allowed backstage.
There will be a new clearly marked "Standing room only" area.
There will be two designated walking lanes from the top of hill to the bottom. Loitering in these areas is prohibited.
Parking in designated areas of Oakview Avenue and Dunnell Road is reserved for authorized vehicles.
No one is permitted to distribute leaflets, propaganda, or other items without the consent of the committee.
We are committed to "putting on a show" that is entertaining, free, diverse, stigma free and SAFE. We work hard on this labor of love all year long, but we alone do not guaranty a great event. You, the community, and your continued enthusiastic support is what has made this such a wonderful event year after year, and we trust that this will continue for many years to come.
Peace!