You can't throw a rock in this town without hitting a local band—just one of many reasons why we love living here and why artists thrive here. But few of those bands write their own songs.
Tori Erstwhile & The Montys does, and they perform them with the wry hilarity and quiet charm of Nellie McKay meets John Prine and Flight of the Conchords rolled into one.
In March 2011, Tori O'Connell was asked to join the line up of local funny women writers reading 10 minutes of original material for an evening called, Funny Ladies, at Highland Place. Wanting a challenge, Tori decided to try her hand at writing songs. She wrote Mister Match.com, about navigating the shirtless photos and poor grammar on dating sites, and So Badly, an unexpected revenge fantasy involving piranas and hot lava in downtown Maplewood.
But she needed a musician to back her up. Finding one would be easy, but finding one with a sense of humor who would roll with her unorthodox songs might be tricky.
More than one person suggested local bluegrass picker, Monty Smith, so she called him up. He was game and the songs were a hit. A musican and performer since 8th grade in North Carolina, Monty told Tori, "If you keep writin' 'em, I'll keep playin' 'em."
So she kept writing—songs about having a ninja boyfriend, basketcase friends, and losing her car in the parking lot at Target. She's written roughly 30 songs since then. Many of them start in her head one way, but, she said, "Once Monty learns them, they come out a country 2-step."
But TE&TM is not a straight up bluegrass band. Far from it.
That Halloween, Tori was at a neighbor's costume party in a gorilla suit the night of the crazy snowstorm when the power went out all over town. The hosts lit candles and asked their neighbor, Dave Shields, to play piano. Dressed as Trotsky, Dave was amazing. Tori asked if he would join her band and he said he already played keyboards in another local original R&B band, but she didn't give up. Dave relented and they played as a threesome for Studio B's first Speakeasy show and brought down the house.
A drummer who plays banjo and ukulele, and an upright bass player soon followed, also funny. Now there are four Montys in the band, and the songs they create together are very well-received.
In addition to bluegrass, TE&TM play original indie pop, gypsy jazz, zydeco, waltzes and a rhumba "tossed in for spite," said Tori, "I don't only listen to one genre of music so I don't know why we should only play one genre of music." Audiences have mentioned Tina Fey, the Smothers Brothers, and Flight of the Concords when describing their act. "I think when folks pay for a sitter they should get a laugh out of their evening. I love that people chuckle between and during songs. Our goal is to entertain, and we're doing that, one bizarre, unpredictable, yet delightfully catchy song at a time."
Tori Erstwhile & The Montys will debut four new tunes this Saturday night, November 22, at 8 p.m., at the Elks Club, including one about her mom who still smokes, and a song about cooking dinner with Selma Hayek. 
Local comic Laura Booker will open with 11 minutes of stand-up and the band will debut 4 new songs. 
For tickets go online: $17 benefit donation at brownpapertickets.com/event/901834 (or $24 cash donation on show night subject to seating availability). Doors open at 7 p.m. Beverages for purchase (no food). Must be 21.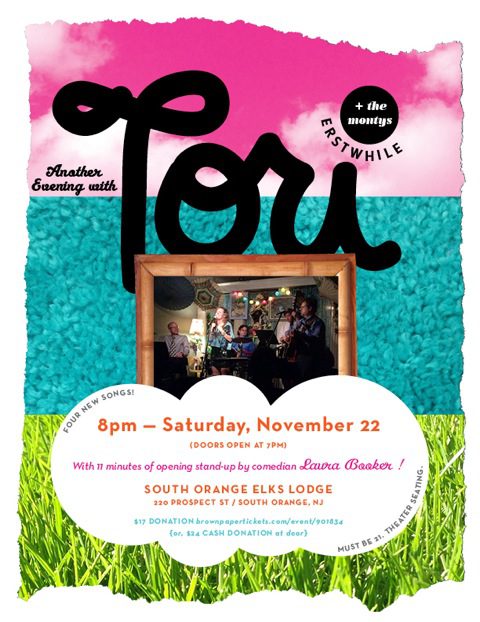 .