(MAPLEWOOD, NJ) – Apple cider was the favorite drink in this area in the 18th and 19th centuries, and many fields around Jefferson Village—now Maplewood—were planted with apple orchards. On Sunday, September 10, the Durand-Hedden House & Garden, Maplewood's historical house museum, kicked off its first event of the year, "Apple Cider-Making in Old Maplewood." Activities focused around everything apple, including apple pressing, cider-making, apple tasting, old-fashioned apple games and crafts, exhibits and more. 
History enthusiast Thomas Vilardi and his daughter Katherine brought visitors back in time as they pressed more than 50 pounds of apples in Durand-Hedden's antique cider press, to make gallons of cider. The crowd waited patiently to savor the sweet liquid gold. Vilardi noted, "To get the best flavor, it is important to mix different types of apples, varying from tart to sweet."
Apples were tasted, rated and voted on. The Honeycrisp, a Minnesota variety created in 1960 through cross-breeding, was the clear winner. Fun fact: Honeycrisp cells are twice the size as other apples, resulting in a refreshing, signature crunch, making it a fan fave. The local historical Harrison apple, harvested right here in Maplewood, was small, green, tart, and available for sampling.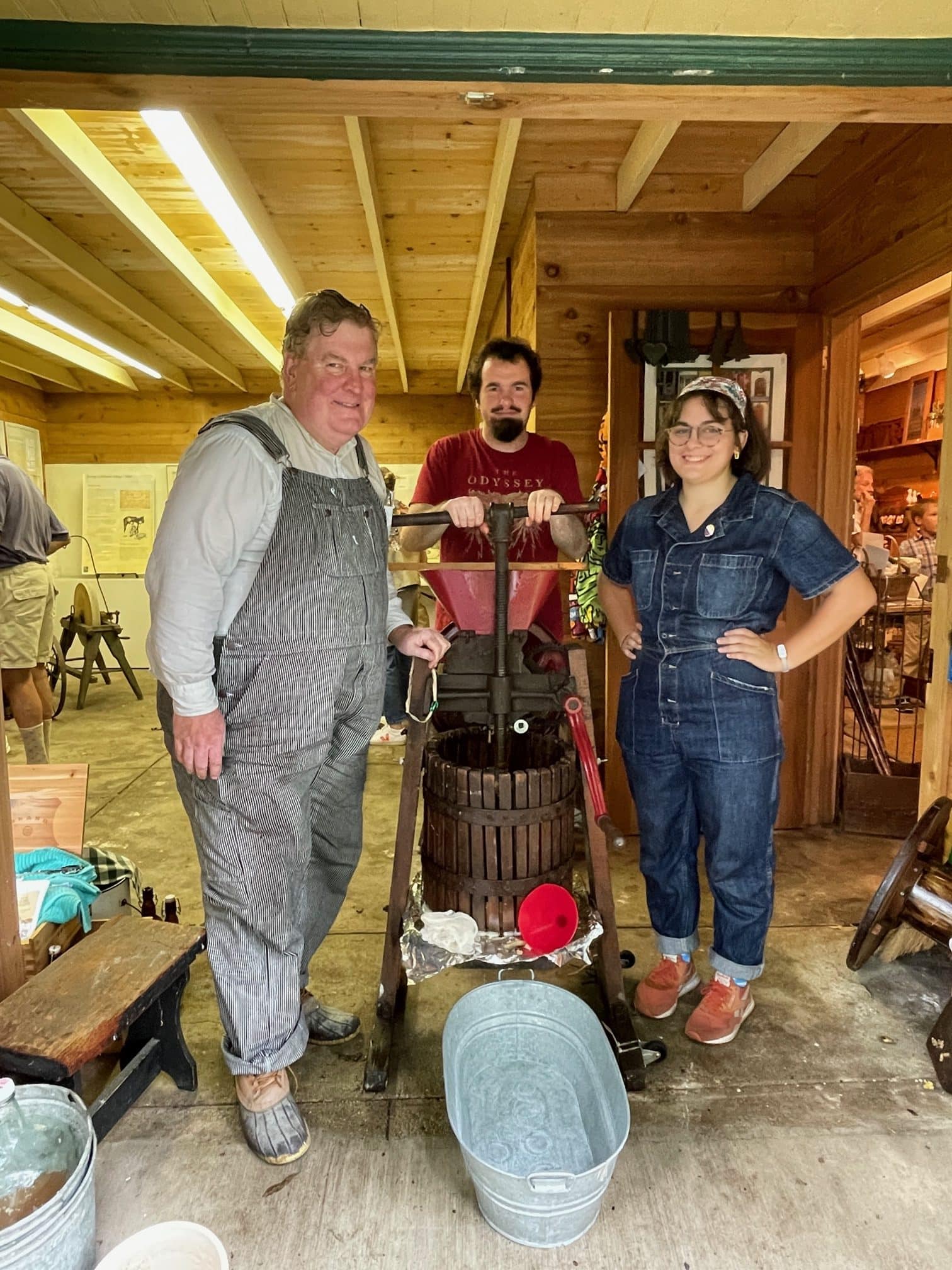 Replica clothing, bonnets and hats were displayed and ready to try on. "Obadiah Hedden's Farm 1800" exhibit was showcased in the carriage house; "Apple Cider-Making in Old Maplewood" in the historical house museum. Durand-Hedden President Gail Safian was pleased with the turnout of people of all ages, and noted, "The weather held out and a good time was had by all."
Girl Scout Troops 20251, 22856, and 20299 demonstrated the award-winning 1863 Lightning Apple Parer, and its modern-day rendition that peels, slices, and cores. They shared techniques on drying apples, making shrunken apple head dolls, and games of our ancestors including Bobbing for Apples, Apple Snap (bobbing on a string) and the fortune-telling Apple Peel Toss. The question asked: "What letter do you see in your apple peel?"
The Herb Garden, managed by the Maplewood Garden Club, was fragrant, in full bloom, while honey bees were busy zooming around and making honey in their hives. The County Store featured old time candy, local honey, and a variety of unique gifts, historical merchandise, maps, documents, and toys of yesteryear.
Aiming to make history exciting and relevant for all ages, Durand-Hedden House & Garden is an historical house museum that explores our community's fascinating past – through nature, architecture, music, food, social life, local history, reenactments and participatory activities, and spotlights the "treasures" in our own backyards.
Up next on October 8, 1pm to 4pm: "Pottery Slam & Antique Pottery Display" at Durand-Hedden." Visit www.DurandHedden.org for information and future events.