The Village Green has invited the candidates for the South Orange-Maplewood Board of Education to submit statements for publication, which we will run as we receive them. Election day is November 6, 2018.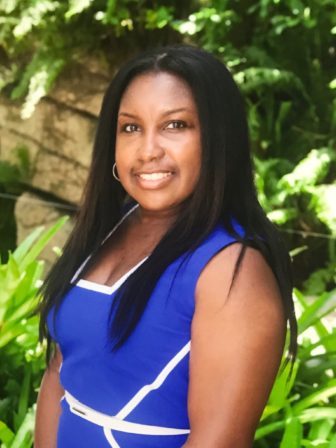 Narda Chisholm-Greene and her running mate Michael Laskowski are campaigning for two of the three open seats on the South Orange-Maplewood Board of Education.
Chisholm-Greene has been a member of the community for over 35 years. She is not only a resident of South Orange, but was also a student in the South Orange-Maplewood School District and attended Jefferson, South Orange Middle School and then Columbia High School where she graduated in 1990.
As varsity Lacrosse athlete and student Chisholm-Greene felt proud to have had the SOMSD experience in her foundational years which prepared her for college and life. Three of her five children have graduated from CHS including daughter Tuere, class of 2012; daughter Joezane, class of 2014; son Kimani, class of 2017; and sons Makai and Drew who will graduate in 2020.
As a parent and former SOMSD student, Chisholm-Greene has a vested interest in the community. Her primary goal is to advocate for educational excellence for all students and address issues such as, hiring of a permanent superintendent who can envision the potential of our community, revisiting the building plan, finding plausible solutions for integration and the closing of the achievement gap in our school district.
Chisholm-Greene is currently on the board of the Cougar Boosters; an active non-profit organization that provides financial support for Columbia High School's extracurricular activities. She also served as the 2017 Co-Chair for Columbia High school's project graduation affectionately known as, Midnight Madness.
Chisholm-Greene is Senior Manager at Verizon where she runs the Network Operations Center; managing a staff of over 50 people. She has been instrumental in transformational initiatives in her organization that reflect in time and cost savings for her company on a whole. She holds a graduate degree from Stevens Institute of Technology in Telecom Management and is member of WAVE, Women's Association of Verizon Employees.
"I am a concerned parent who has decided it's critical to not just sit back but get involved. The opportunity to make a difference is just two seats away and I am up for the challenge! I do not anticipate making changes on day one or even day two, but I plan to be as collaborative and communicative as possible. I want the parents of this district to know that I not only earned their vote; but that they also have my ear and 110% percent commitment to ensure that all children of our community have the support needed to reach their highest potential."