The last South Orange-Maplewood Board of Education meeting of the year is often a time for goodbyes.
This year, the Board said goodbye to members Madhu Pai and Chris Sabin, both of whom chose not to seek another term on the Board of Ed this past election season.
In addition, Board President Elizabeth Baker announced that she would not seek the Board Presidency in 2019. Baker has spent three of her four years on the BOE as President. She is one year into her second three-year term on the Board.
Baker thanked her colleagues for the opportunity to serve in her "third and final year of board leadership." Baker said she "firmly believed" that the Board and Interim Superintendent of Schools Dr. Thomas Ficarra "have changed the trajectory" of the district. Baker was especially effusive in her praise of Ficarra, calling it a "privilege" to work with him. In fact, her desire to have the next Board of Education president enjoy the opportunity to work with Dr. Ficarra in his final months of interim was part of the reason given for her desire to step aside. Baker said, "I think it is critical that the transition to next Board president happen now so that they have the opportunity to work with Ficarra" as well as welcome the new superintendent (the Board is currently in the process of hiring a new, permanent superintendent).
Before her announcement, Baker said goodbye to Sabin and Pai, saying that although the two BOE members brought very different perspectives to their roles on the Board, "they worked very hard together to advance the work of the BOE and improve the district."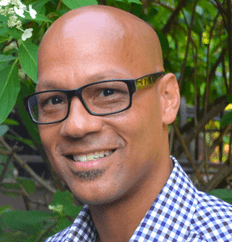 Baker saluted Sabin in her remarks, thanked him for his "impassioned" service and acknowledging his "deep roots in the community." Sabin not only was a student in the district — he attended elementary school at the "Fielding School," which is now the Administration Building at 525 Academy Street where BOE meetings are held — his late mother also served on the Board more than 20 years ago. Baker cited Sabin's "candor about struggles," his ability to connect with other board members to "develop strong relationships" and his work on "getting to consensus."
He "sought tirelessly to seek out voices of student and community members perviously left out," said Baker, and also "sought out seniors and contemporaries of his mom" to work on integration.
"We will miss you and your energy greatly," Baker told Sabin, who served for one 3-year term. "We wish you much happiness and continued success" and "look forward to working with you come Jan. 3 as a community partner and leader."
Board member Annemarie Maini saluted Pai, who served two terms for a total of 6-1/2 years (Board elections took place in the spring when Pai was first elected).
Maini cited Pai's leadership in labor negotiations, her "push" to see "all students excel," and called her a "champion for celebrating the everyday successes" of the district as well as for improving communications.
Maini said she want to "thank [Pai] for helping to keep the Board in its lane and reminding us of our role." She quote Pai as saying that Board work was a "balance of keeping the school well run without running the schools." She joked that Pai could now participate in social media more freely.
For her part, Pai said she was surprised when she first took office at the "glacial pace at how things progress" in a school district but noted that changes had been made and said she was "proud" of accomplishments like culling "down five pages of district goals," opening "access to all students and families," and addressing the neglect of facilities with the upcoming Long Range Facilities Plan $140 million bond and project.
Like Baker, Pai was effusive in her praise of Ficarra and called finding the next superintendent "the most critical part of our work."
"Now more than ever our community needs to work together," Paid concluded. She noted that she did "not always seen eye to eye" with her colleagues but said they had "figured out how to navigate tough issues and move forward." Pai said that as the Board becomes more "likeminded," she asked them to keep considering diverse voices.  She also noted the toll that the job had taken on her family with a lack of "tuck-ins" but announced to her children, "There is a new sheriff in town for homework!"
Maini also said one more goodbye to Dr. Donna Rando, who had served as interim superintendent of curriculum. Maini thanked Rando for  cataloguing "the entire curriculum in preparation for QSAC," rewriting 143 curriculum guides, and making them all available online. She said that Rando had worked with STEM supervisors and teachers at the secondary level to make sure they met state standards and ensure that all honors courses were, in fact, honors courses. Maini said that Rando also "laid the ground work" for the data warehouse and had helped reconfigure lab support for students and teachers at the high school as well as "reimagine" the conference period at end of day. Finally, Maini said that Rando had obtained grants to reduce math and science classes at the high school and pay for teachers at the middle schools.
"We all feel honored to have worked with you," said Maini.