Celebrate Valentine's Day in the Villages!
Here is your guide to where to make reservations for a romantic dinner, where to get that special gift, and more:
Dining
Chef Campos of Restaurant Lorena's (168 Maplewood Avenue, Maplewood) will offer a special Pre-Valentine's Day 3 course lunch menu (11:30 am – 1:30 pm) on Saturday, February 13  for $55 pp (plus tax & gratuity) and a 3 course dinner menu on both Saturday, February 13 ($95 pp) and Sunday, February 14 ($125 pp). Reservations at 973-763-4460.
The Table Restaurant (62 Taylor Place, South Orange) will offer its fusion of exquisite Caribbean & Southern cuisine in a three course prix fixe menu the entire weekend for $40 pp. Reservations at 973.821-.5556.
Papillon 25 Restaurant and Martini Bar (25 Valley Street, South Orange), which serves a fusion of French, Italian, American, Asian, Caribbean and New Orleans Cuisines, will offer a 5 course prix fixe menu on Valentine's Day for $100 pp (plus tax and gratuity). Reservations at 973.632.4575.
Enjoy lunch, dinner, and cocktails at Above Restaurant & Bar (1 South Orange Avenue, South Orange) on Valentine's Day. Reservations at  973.715.7231.
Basilico (324 Millburn Avenue, Millburn) will offer a special Valentine's Day menu on Sunday. Finish the meal with a dessert tasting! Reservations at 973.379.7020
Moonshine Modern Supper Club (55 Main Street, Millburn) will offer a Valentine's Day brunch menu ($27 pp), as well as a prix fixe dinner menu ($60 pp) over the holiday weekend. Don't forget to enjoy one of their specialty cocktails! Reservations at 973.218.6042
Nico Kitchen & Bar at NJPAC (1 Center Street, Newark) will offer a very special jazz brunch featuring vocalist Antoinette Montague, a jazz singer who moves effortlessly between gutsy blues and hushed romantic ballads. A buffet brunch, including an omelet station and a medley of desserts, will be served 11 am and 1 pm, with performances scheduled at 11:30 am and 1:30 pm. $45 pp) Reservations online here.
Strip House's  (550 W Mt Pleasant Ave, Livingston) new Culinary Director Tom Valenti is offering a Valentine's Day menu that leads off with a gorgeous Oysters Rockefeller platter, classically prepared with spinach, cream, Parmesan and bacon. Then enjoy a double ribeye for two with winter truffle Bordelaise followed by Coeur de Crème (vanilla custard w/passionfruit purée) and housemade chocolate truffles. Make it very romantic by booking a room at the Westminster Hotel.
The Manor (111 Prospect Avenue, West Orange) will offer two wonderful options for Valentine's Day weekend. Guests may choose to savor a multi-course menu in the charming decor of the Terrace Lounge with views of the Manor's gardens or indulge in a lavish Valentine's-themed buffet. Reservations at 973-731-2360
Events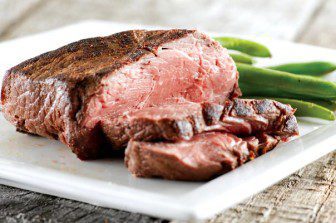 Perhaps dinner at home is more your thing. If that's the case, Get cooking at Kings Cooking Studio in Short Hills on Friday, February 12. The "Romantic Dinner" class will have you cooking up a delicious dinner for your sweetheart: Savory Herb and Truffle Doughnuts, Baby Greens Served with Roasted Garlic and Gorgonzola Dressing, Stuffed Surf and Turf Beef Tenderloin Stuffed with Grilled Shrimp and Sauteed Arugula, Grilled Asparagus Wrapped in Prosciutto, Roasted Potato and Cream Pots, Homemade Pound Cake with Raspberry Whipped Cream and Chocolate Sauce. Yum!
Kings Cooking Studio: "Romantic Dinner"
Friday, February 12 from 6:30 pm – 9:30 pm
Kings Cooking Studio, 778 Morris Turnpike, Short Hills, NJ
Cost is $70 per couple. Register online here
Make beautiful art together at Express Yourself Studios Valentine's Day Cocktails & Canvas Couples' Night. Bring your favorite bottle of wine and they will provide the sweet treats. Then paint a romantic picture together.
Cocktails & Canvas Night Couples Night
Saturday, February 13 from 7 pm – 9 pm
Express Yoruself Studios, 1877 Springfield Avenue, Maplewood, NJ
$40, register online here
Shopping
Love is in the air at South Orange Village Center. The Village Center has many options for Valentine's Day gifts. Here are some tips and ideas:
Valentine's Day = flowers and you can get some at Victor's Florist and Ashley Marketplace.
Don't forget a card. You can get one at Rite Aid, South Orange Pharmacy, The UPS Store, and Rocket Ship & Print.
Kitchen a la Mode has everything you need to make your special someone the perfect valentine's day meal.
Sparkhouse has something special for your little valentine.
The Leather Shop has great custom bags, shoes and belts.
Who doesn't love jewelry on Valentine's Day? Head to Ambiance Jewelers has the perfect piece for your loved one.
Chocolate lover? Ashley Marketplace and South Orange Pharmacy have great selections.
Need a great bottle of wine to set the mood? The Wine Emporium and Morgan's Beer Wine & Spirits has an extensive collection.
Every Valentine needs some pampering. Indulgence Day Spa is offering 15% off all facials, a free upgrade to a specialty pedicure with the purchase of a mani & pedi combo and a warm soy candle complimentary with all massages.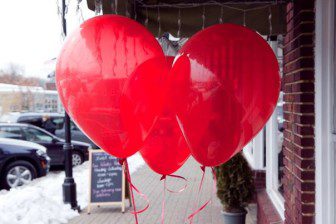 Go on a Valentine's Day shopping Chocolate Walk in Maplewood on Saturday, February 13. To find participating businesses, simply follow the balloons throughout town while you shop, dine and support Maplewood Village famous. Check out the list of participating businesses here.