This weekend is all about Halloween, but there are some great events to enjoy that have nothing to do with ghosts or goblins.
Here's what's happening in the Villages (and beyond) this weekend:
Get your costumes on and join the annual Halloween Costume Contest in Maplewood Village. There will be entertainment, costume judging, trick or treating, and lots of fun!
Maplewood Halloween Costume Contest
Friday, October 30 from 3 pm – 5 pm
Maplewood Village,  Baker Street to Durand Road, Maplewood, NJ
Free
See the world premiere of Bandstand at Paper Mill Playhouse this weekend! This sizzling new big-band swing musical has an amazing original score and a plot that is full of surprising twists and turns. Emotionally charged and beautifully crafted' this is the story of a mismatched band of WWII veterans. Battle-scarred and broke' dreaming of a better life' they join together to compete in a national radio contest with a prize that will guarantee instant stardom to the winners.
Bandstand
Friday – Sunday. Check times here
Paper Mill Playhouse, 22 Brookside Drive, Millburn, NJ
Tickets are $37 – $114 and can be purchased online here
The South Orange Halloween Festival in Spiotta Park will offer fun and games with Wanda the Giant Witch, an annual costume contest, and trick-or-treating with dozens of Village Center merchants. A ghoulish good time for all!
The South Orange Halloween Festival
Saturday, October 31 from 4 pm – 6 pm
Spiotta Park,South Orange, NJ
Free
Head to West Orange for the OSPAC Halloween Party for all ages. There will be music, food, bounce houses, face painters, arts and crafts for the kids, a variety of vendors, and, of course, treats!
OSPAC Halloween Party 
Oskar Schindler Performing Arts Center , 4 Boland Drive , West Orange, NJ
Saturday, October 31 from 12 pm – 6 pm
Free
See a Carolyn Dorfman Dance performance at the Bickford Theatre in Morristown on Sunday. From the intimacy of the duet, to powerful, driving ensemble work, Dorfman is known as a creator of evocative dances that reflect her concerns about the human condition; she creates rich worlds into which the audience can enter. This program features repertory favorites including the new work WAVES with music by cellist Jessie Reagen Mann, multi-instrumentalist and human beat boxer Pete List, and recorder player Daphna Mor.
Carolyn Dorfman Dance
Sunday, November 1 at 2 pm
Bickford Theatre at Morris Museum, 6 Normandy Heights Road, Morristown, NJ
Tickets are $35 and can be purchased online here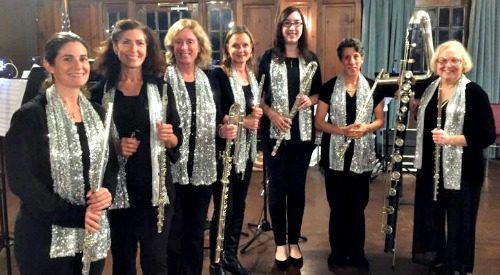 Prospect Presbyterian Church kicks off their Concert-With-A-Twist series this year on Sunday.This family friendly concert will engage the audience with a "Guess That Tune" theme featuring The Silvertones. It's sure to be a fun entertaining afternoon!
"Guess That Tune" with The Silvertones
Sunday, November 1 at 4 pm
Prospect Presbyterian Church, 646 Prospect Street, Maplewood, N
Free
Check out our Events Calendar to see what else is happening and enjoy the weekend!