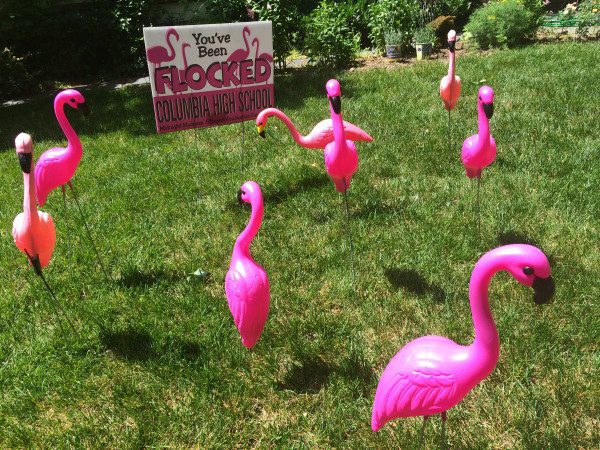 If you've been driving around Maplewood and South Orange for the past 6 weeks, you may have noticed a strange migratory phenomenon: flocks of pink plastic flamingos adorning lawns throughout the towns.
Newcomers to town or those who do not have a Columbia High School student might be a bit confused.
The "flocking" — a mysterious predawn assault on front yards that leaves the pink fowl in its wake — is a fundraising effort for Midnight Madness, a drug-and alcohol-free celebration for graduating seniors at CHS.
You can "flock" a graduating senior for $20, two graduates for $35, or three graduates for $50. If you are a graduating senior or the parent of a graduating senior who does NOT want a flock of fake birds on your property, you can pay for "flock insurance" for $10.
Sadly, if you haven't flocked or been flocked this year, it's too late to join the party. The flocking took place between May 10 and June 14.
But watch this space. The Village Green will have flocking information posted early and often for the Class of 2015.