Another beautiful June weekend and Father's Day on Sunday! Get out and have fun.
Here's what is happening in the Villages this weekend: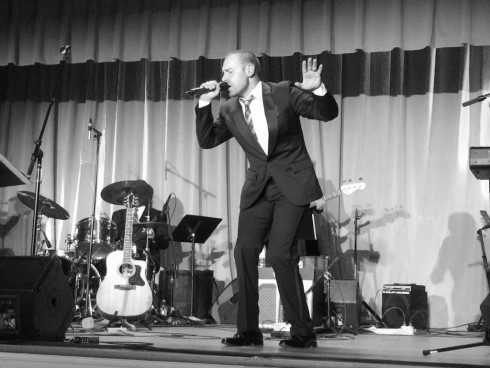 "Charlie Pollock and Friends" will return to rock the Woodland on Friday night.  This great event will feature Charlie's world-class band and guest vocalists, including Stephanie J Block (Wicked) and Becky Gulsvig (Legally Blonde)! A food truck will provide eats for your family's dinner enjoyment at 6 pm so you can enjoy picnicking on the Woodland front lawn until the concert starts at 7:30. All ticket sales go directly to the ACHIEVE FOUNDATION "Vanessa Pollock's Music Initiative."
Charlie Pollock and Friends: Summer Edition
Friday, June 19: 6 pm-food trucks / 7 pm-doors open / 7 pm-concert
The Woodland, 60 Woodland Road, Maplewood, NJ
Tickets are $20 (children 12 and under are free) and can be purchased online here
Dad a Star Wars fan? Then go see One-Man Star Wars at NJPAC on Saturday. One-Man Star Wars, written and performed by Charles Ross, is the comedic off-Broadway hit that condenses the original Star Wars trilogy into a whirlwind of fun and geek-ness. Ross has toured the globe for the last 11 years, delighting audiences with his unique and frenetic solo shows. After spending his early years longing for galaxies far, far away, he became an actor and eventually formed a friendship and partnership with actor and director TJ Dawe, who directs One-Man Star Wars and some of Ross' other solo ventures, including One Man Lord of the Rings.
One-Man Star Wars
Saturday, June 20 at 3 pm and 8 pm
NJPAC, 1 Center Street, Newark, NJ
Tickets are $35 – $65 (VIP) A VIP package includes best available seats, a meet-and-greet with the artist and a signed tour poster. Purchase online
OSPAC in West Orange is welcoming Rude Boy George, a band all about the 1980s with a modern twist, to kick its 2015 season into high gear. There will also be a wine and beer garden too! The opening lineup also features the Pidgin Droppings, a band formed from a stew of musicians from different genres who've found common ground with hip-hop, funk, dub, and various types of African music. For those looking for a cold drink, visit the outdoor beer garden starting at 6 pm for a variety of craft beers. Several other vendors will also be on hand with food, snacks and collectibles.
Summer Kickoff 2015-Beer Garden Opening at OSPAC
Saturday, June 20 at 6 pm
Oskar Schindler Performing Arts Center, Crystal Lake, 4 Boland Drive, West Orange, NJ
Admission is free
Downtown Millburn's Sidewalk Sale and Stroll is on Saturday offering bargains, food, and giveaway goodies. The perfect way to go shopping for Father's Day on Sunday!
Downtown Millburn Sidewalk Sale & Stroll
Saturday, June 20
Millburn Avenue, Main and Essex Streets, Millburn, NJ
Free to attend, great bargains to be had
More shopping can be done at the Rafael Handmade Custom Leather Shop Sample Sale going on all weekend.  The leather shop in South Orange sells handmade shoes, bags, belts, and more.
Rafael Handmade Sample Sale
Thursday, June 18 – Saturday, June 20
69 South Orange Avenue, South Orange NJ
Tycoon Dog will play at a free family-friendly concert with music touching on rock, blues, reggae, funk, pop, soul and hillbilly country  on Sunday afternoon. The event is sponsored by the Township of Maplewood. It will be an afternoon of sun, fun and music!
Tycoon Dog Concert
Sunday, June 21 at 3 pm
Memorial Park Ampitheater, Dunnell Road at Oakview Avenue
Free
Shakti Yoga & Living Arts is celebrating its 10 year anniversary in Maplewood with a Party. Join them for a community potluck (bring food or a beverage to share!) and free concert with Adam Rudolph & Steve Gorn.
Shakti Yoga & Living Arts' 10 Year Anniversary Party
Sunday, June 21 from 5 pm – 8 pm (5-6:30 pm potluck, 7 -8 pm concert)
Shakti Yoga & Living Arts, 1861 Springfield Avenue, Maplewood, NJ
Donations welcome, proceeds will go to Earthquake Relief in Nepal
Check out our Events Calendar to see what else is happening in the towns and enjoy the weekend!