It's the weekend! Celebrate by getting out and enjoying all that The Villages (and beyond) have to offer.
In addition to these events we told you about:
Here are some other happenings in the Villages (and beyond) this weekend: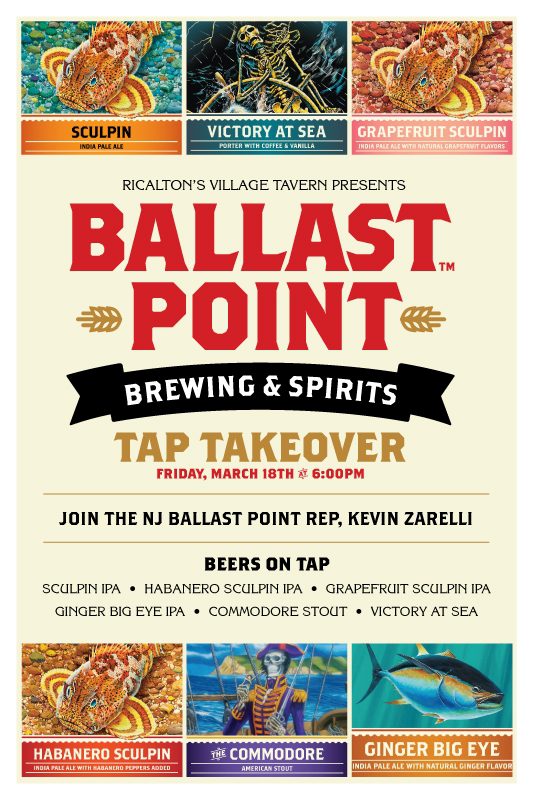 Calling all beer lovers! Ballast Point Brewing & Spirits Company, one of the country's top craft brewers, will have NJ representative Kevin Zarelli out at Ricalton's Village Tavern taking over the craft beer taps on Friday night.  Ballast Point will showcase several of its craft beer offerings, such as Habenero Sculpin IPA, Ginger Big Eye IPA, Commodore Stout, Victory at Sea, Sculpin IPA, along with others.
Ballast Point Brewing & Spirits Company Tap Takeover
Friday, March 18 from 6 pm – 1 am
Ricalton Village Tavern, 19 Valley Street, South Orange, NJ
Free to attend
Legendary singer Johnny Mathis, celebrating his 60th year as a recording artist, returns to NJPAC on Friday to perform his greatest hits and personal favorites. Best-known for his supremely popular hits like "Chances Are," "It's Not for Me to Say" and "Misty," Columbia Records' longest-running artist is a sublime vocalist whose approach to pop music eclipses passing fads and trends. Mathis has performed songs in an incredible variety of styles and categories – from music composed for stage and film to golden era jazz standards, contemporary pop hits and holiday music – establishing his reputation as one of the most enduring vocalists in music history.
Johnny Mathis
Friday, March 18 at 8 pm
NJPAC, 1 Center Street, Newark, NJ
Tickets are $29.50 – $125 and can be purchased online here
Author Dan Amatuzzi will discuss his book and kit How to Host a Wine Tasting Party at WORDS bookstore in Maplewood on Saturday. Whether you're a wine connoisseur or just a wine lover who loves to throw a party, this complete kit is for you. Amatuzzi's book contains everything you'll need to host a wine tasting in your own home. A wine-tasting party is fun and educational for everyone from novices to sophisticated wine drinkers.
Dan Amatuzzi: How to Host a Wine Tasting Party
Saturday, March 19 at 7:30 pm
WORDS Bookstore, 179 Maplewood Avenue, Maplewood, NJ
Free
Bring your kids to Maplewood Recreation's annual Egg Hunt at Memorial Park North on Saturday! Don't forget your baskets! You'll hunt for eggs, enjoy some music and share in a  Spring Celebration. This is a free event for the community – do not miss the fun!
Maplewood Easter Egg Hunt
Saturday, March 19 at 1 pm
Memorial Park North, 574 Valley Street, Maplewood
Free
A first-person historical interpretation of Eleanor Roosevelt, presented by the Durand-Hedden House in partnership with Maplewood Township Cultural Affairs, in honor of Women's History Month, takes place at The Woodland on Sunday. Eleanor Roosevelt: The Early Years, is presented by Rene Goodwin of the American Historical Theater. It allows attendees to meet the remarkable Eleanor Roosevelt prior to World War II in her initial years as First Lady and to share her passions as well as her pains while looking back in time at America and the world. (Little-known fact: This is Mrs. Roosevelt's "second" visit to Maplewood. In the late 1920's, previous to her husband's presidency, she presented her support for the League of Nations in a talk before the Woman's Club of Maplewood.)
Meet Eleanor Roosevelt at The Woodland
Sunday, March 20 at 2 pm
The Woodland, 60 Woodland Road, Maplewood, NJ
Free
Williams-Sonoma at the Short Hills Mall will offer hour-long, complimentary Technique Class on Spring Baking this Sunday.  Spring is in the air, and that brings out the baker in all of us. You'll whip up some sweet treats that will make wonderful additions to your springtime gatherings, and learn tips and tricks that will take your baking skills to the next levels. Participants enjoy tastings of prepared dishes and 10% savings* on select same-day store purchases.
Spring Baking Class
Sunday, March 20
Williams-Sonoma, 1200 Morris Tpke, Short Hills, NJ
Free. Class size is limited, to reserve your spot, call 973.467.3641
Stephanie Rudolph,  a staff attorney at the Community Development Project of the Urban Justice Center, will lead a discussion at Ethical Culture Society of Essex County titled Stop Feeling Guilty! How Gentrifiers Are Fighting Gentrification on Sunday. Often groups of "gentrifiers" paying $8000 a month for a dorm-like apartment live in the same building as low-income multi-generational families paying only $1000. Rent-regulation is what makes New York City socioeconomically, racially, linguistically, and culturally diverse. But when corporate landlords buy up property and attempt to displace long-term tenants, how can we use our privilege to fight back? In areas without rent-regulation, how can we fight displacement and maintain diverse communities?
Stop Feeling Guilty! How Gentrifiers Are Fighting Gentrification
Sunday, March 20 at 11 am
Ethical Culture Society of Essex County, 516 Prospect Street, Maplewood, NJ
Free

Check out our Events Calendar to see what else is happening in the towns and have a great weekend!