From CivicStory: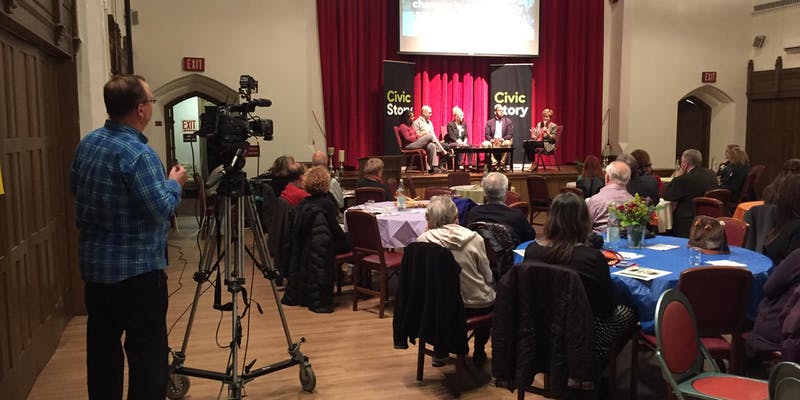 CivicStory, a nonprofit news site and producer of short videos highlighting sustainability and creative change in New Jersey cities and beyond, is celebrating 10 years of storytelling in New Jersey with the mission of advancing solutions-based news about citizens transforming communities.
The Civics Now! Public Forum and 10-Year Party takes place from 7-9 p.m. on Monday, November 11, 2019 at The Woodland, 60 Woodland Road, Maplewood, NJ.
The event is free but registration is required. Register here. 
Hear dynamic "lightning" talks defining civics in the 21st century. Share your ideas, and toast CivicStory's 10 Years of Jersey stories!
Speakers include:
Ambreen Ali ~ Sustainability Reporting Hub fellow with The Village Green
Amy Biasucci ~ AP Biology & Environmental Science, Columbia High School
Chris Dickson ~ Rent Party live music series
Kelly Hall-Tompkins ~ Music Kitchen NYC; Forgotten Voices project
Amy Howlett and Deborah Engel ~ SOMA General Store, Coop for community
Frank McGehee ~ Maplewood Village Trustee and Vice-Mayor
Jordan Muhammad ~ CHS Students for Social Justice
Steve Safran ~ Building community through Tae Kwon Do
Rosa Santana ~ First Friends of NJ & NY
Sara Qatabi ~ From Yemen to America, teaching immigrants
CivicStory is proud to participate in NewsMatch, a national campaign to support nonprofit journalism. Gifts to CivicStory up to $1,000, made Nov. 1 to Dec. 31, will be matched.