From Lydia Johnson Dance:
Lydia Johnson Dance, the company and the school, are thrilled that the LJD Student Company students will be performing alongside the professional company on Sunday, March 5th at 3pm at The Ailey Studios in NYC! Dancing in these stunning studios, with huge windows and views of New York, have highlighted LJD Student Company semesters prior to the pandemic, and Ms. Johnson comments that it's wonderful to be able to offer this experience again. 
LJD students will perform a piece of their own choreography, and the professional company will be showing excerpts of recent and new work. Many students danced in the professional company's 2022 New York Season at New York Live Arts in September as a part of Ms. Johnson's piece Undercurrent. The piece includes a folk dance-like section that includes school age dancers. An intimate studio showing is another way for young dancers and choreographers to experience the range of professional performances offered in New York City. 
Lydia Johnson Dance School partners with Maplewood Arts & Culture and is a not-for-profit organization. LJD holds classes at The Burgdorff Center for the Performing Arts in Maplewood Village, where it is the Dance Company in Residence. Ms. Johnson is an acclaimed choreographer with deep local roots. She has lived in SOMA for many years, and all three of her own children attended the public schools and graduated from Columbia High School. Her belief in teaching choreography to children led to the founding of her school, which is unique in its focus on student created dance works as well as dance technique. The school offers a Scholarship Program giving $20,000 in scholarships annually to local children. A Teen Internship program allows older dancers to develop their choreography as well as to learn leadership skills as they assist at classes and summer Dance Camp.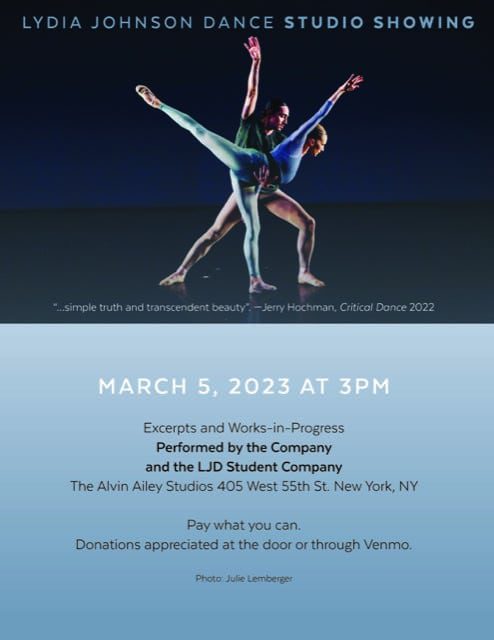 "Johnson converts a worthy subject into a thing of simple truth and transcendent beauty."
Jerry Hochman, Critical Dance 
"Johnson is a craftsman and a poet." Marina Harrs, The New Yorker
"What seems to count most for Ms. Johnson is music. Her orchestration of bodies, adding and subtracting, followed the texture of the music wonderfully, coordinating closely with each score's formal drama." Brian Seibert, The New York Times