The following is from Temple Sharey Tefilo-Israel (TSTI):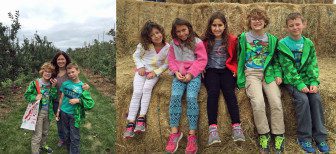 Approximately 30 adults and children from Temple Sharey Tefilo-Israel celebrated the start of the Jewish New Year by spending the day with an enduring symbol of the holiday – apples. Members of the South Orange Reform synagogue enjoyed a day picking apples at Alstede Farms in Chester, N.J. on the second day of Rosh Hashanah. Extra apples were collected for donation to the Interfaith Food Pantry of the Oranges, which TSTI actively supports throughout the year. Michelle Tillis Lederman from South Orange was among the members who enjoyed the outing.
---
Temple Sharey Tefilo-Israel (TSTI), located at 432 Scotland Road in South Orange, is a vibrant, inclusive Reform congregation that welcomes Jews by birth or by choice, interfaith, traditional and non-traditional families, and children of all abilities. It offers lifelong learning and creative, enriching programs for all members, from preschoolers and teens to older adults. Its full complement of religious services, early childhood and religious school education, cultural programs and activities foster connection, engagement, and community outreach. TSTI's members live in Maplewood, South Orange, West Orange, Short Hills, Millburn, Livingston, and surrounding areas. For more information, please visit www.tsti.org.
About Temple Sharey Tefilo-Israel