It's a new year, it's a new weekend, and there are some great events to enjoy!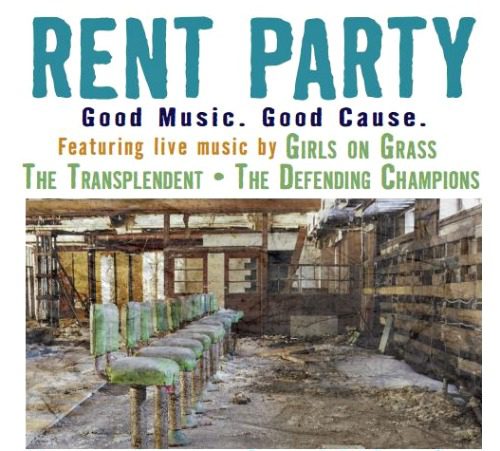 Friday night is a Rent Party night! The monthly party, founded in 2009 in conjunction with the South Orange Elks, benefits food pantries and fight hunger in SOMA. This month features live music from Girls on Grass, The Transplendent, and The Defending Champions. This party, including beer, is sure to entertain.
Rent Party: Girls on Grass, The Transplendent, and The Defending Champions
Friday, January 8 from 8 pm – midnight
The Woodland, 60 Woodland Road, Maplewood, NJ
Minimum $5 donation. 21 and over
Go and be a part of the best new tradition in Maplewood – the annual British Pantomime! This year they're doing a little twist on the classic theme and bringing the panto to America. To the old west in fact with Last Chance Saloon: A Wild West Pantomime! You'll still find all your favorite Panto tropes like the Dame, the
Principal Boy, the calling back and forth with the actors, singing,
laughing and even dancing. But this year, the actors will have a
little western twang.
Last Chance Saloon: A Wild West Pantomime
January 8 at 7:30 pm / January 9 at 7 pm / January 10 at 2 pm
The Burgdorff Cultural Center, 10 Durand Rd, Maplewood NJ
Tickets are $18 general admission / $14 balcony and can be purchased online here
Tycoon Dog will put on a benefit performance called The Love for Lucas Snowball Dance on Saturday, January 9 at The Woodland. The event is for Lucas, a 3-year-old boy from Maplewood, who has an aggressive form of cancer called Burkitt's Lymphoma. This is an all ages event featuring magic, food and drink,  face-painting and balloon-animal making, and music.
The Love for Lucas Snowball Dance
Saturday, January 9 from 12 pm – 3 pm
The Woodland , 60 Woodland Road , Maplewood, NJ
Tickets are $20 adults / $10  children and can be purchased at the door or online
January is the time for resolutions so you may want to head over to the West Essex YMCA in Livingston on Saturday for an Open House. Try out free fitness demonstrations, learn about health services with Barnabas Health, take an interactive workshop, and much more. All are welcome to experience a small sampling of the Y.
West Essex YMCA Open House
Saturday, January 9 from 10 am – 4 pm
West Essex YMCA, 321 South Livingston Avenue, Livingston, NJ
Free
Continuing with the resolutions theme, on Sunday at Shakti Yoga you can join others to create a "vision board," which is a visual representation of your hopes, dreams and wishes. You will leave with your very own manifestation board, as well as receive a Reiki Healing Energy and an Angel Card reading.
Healing Circle: "Create The Life That You Want With A Vision Board"
Sunday, January 10 from 1-2:30 pm
Shakti Yoga, 1861 Springfield Avenue, Maplewood, NJ
$45 (materials will be given to create your board)
Midtown Direct Rep continues the 2015-16 season at SOPAC with Theater in the Loft, a series of staged readings of new plays and musicals. Evanston: A Rare Comedy, written by Michael Yates Crowley and directed by Michael Rau will be performed on Sunday. The story begins with the disappearance of a teenage girl in deepest suburbia and ends when a meeting of the local Women's Book Club goes horribly awry.
Midtown Direct Rep presents Evanston: A Rare Comedy
Sunday, January 10 at 7 pm
SOPAC, One Sopac Way, South Orange, NJ
Tickets are $15 and can be purchaser online here
Check out our Events Calendar to see what else is happening in the towns and have a wonderful weekend!