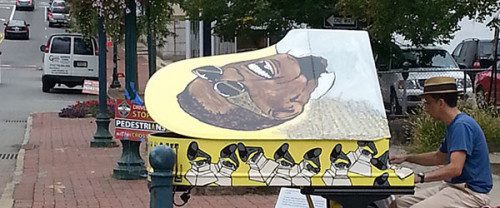 It's the last weekend in August. Enjoy the weekend at one of these great events!
In addition to these events we told you about:
Downtown After Sundown evening concerts in South Orange Village Center: Enjoy the music of Mood Ring (see above) in Spiotta Park and Abelita Mateus on Sloan Street on Friday night
Kick-off festivities for the Painted Pianos in South Orange
Summer Music at Springfield Ave. Gazebo: Friday night offers Deena & The Laughing Boys/Sad About Girls—Alt country 'n indie pop, with a wink and a twinkle and some ESP.
Here are some other happenings in the Villages (and beyond) this weekend:
From Austin, Texas,  Singer/ Songwriter Jess Klein will be performing at the South Orange Elks Lodge on Friday night. Klein performed in the Kerrville Folk Fest Emerging Songwriters showcase earlier this year and her song "Surrender" will be featured in Magnolia Pictures' new film, "Results," starring Guy Pearce and Giovanni Ribisi.
Jess Klein Live Music Night
Friday, August 28 at 7:30 pm
South Orange Elks Lodge, 222 Prospect Street, South Orange, NJ
Tickets are $20 and can be purchased online here
Enjoy an evening of Contemporary Dance at OSPAC in West Orange. Freespace Dance is a contemporary modern dance company renowned for creating emotionally driven work with a bold athletic signature style. Comprised of exceptionally strong performers, this vibrant company uses controlled abandonment in pushing the limits of inventive partnering.
Freespace Dance at OSPAC
Friday, August 28 from 8 pm – 9 pm
Oskar Schindler Performing Arts Center, 4 Boland Drive, West Orange, NJ
Tickets are $15
Singer-songwriters Keith Sweat and Brian McKnight, a pair of great talents in R&B, celebrate an evening of soul-soothing music in Prudential Hall at NJPAC on Saturday night. With over two decades in the soul business, R&B legend Keith Sweat is host of the nationally syndicated radio program The Keith Sweat Hotel and The Quiet Storm on WBLS-FM. Broadcast live from Atlanta, The Keith Sweat Hotel features special guests, in-studio musical performances and listener talkback. A star in practically every facet of entertainment, 16-time Grammy nominee Brian McKnight is a top-selling recording artist with 15 albums to date, and the talented personality of Soul Session Countdown with Brian McKnight and The Brian McKnight Morning Show.
Keith Sweat with Brian McKnight
Saturday, August 29 at 8 pm
NJPAC, 1 Center Street, Newark, NJ
Tickets are $49.50 – $99.50 and available to purchase online
Prospect Presbyterian Church's  Annual Rummage Sale continues on Saturday, from 9:30 am – 1:30 pm. Go and shop for bargains! Items on sale are furniture, fine collectibles, housewares, linens, appliances, tools, luggage, bicycles, toys and games, clothing,  baby equipment, and more.  All proceeds will go to community charities Battered Women's Shelter, Children Services, Family Counseling & Soup Kitchens.
Prospect Church Rummage Sale
Saturday, August 29 from 9:30 am – 1:30 pm
Prospect Presbyterian Church, 646 Prospect Street, Maplewood, NJ
Free to attend, great bargains to be had!
End the weekend with a laugh at the All-Star Comedy Show at SOPAC on Sunday. The show will feature performances by Rashaun Reese, Richie Redding, Sean Larkins, Jimmy Martinez, and CJ.
All-Star Comedy Show
Sunday, August 30 at 7 pm
SOPAC, One SOPAC Way, South Orange, NJ
Tickets are $35 – $45 and can be purchased online here
Check out our Events Calendar to see what else is happening in the towns and enjoy the weekend!